All topics
The Ultimate Holiday Sales Checklist. Part 1: Craft Your Offer and Promo
Just like previous years, holiday sale 2021 is the time when eCommerce store owners can boost sales, sell out inventory, and grow the customer base. It is time that can be blessed with great results. However, good results come to those who properly prepare.
In this holiday sales checklist, we'll go through the marketing activities necessary to make sure your sale sails smoothly and brings great results. The checklist covers crafting discounts and special offers and spreading the word about them with a well-thought-out holiday marketing campaign.
Get your pencil ready to tick the boxes from this holiday sales plan.
To make sure that you don't overlook any of the important steps for the upcoming holiday season, we have prepared The Ultimate Holiday Sales Checklist: 80 Steps to Prepare for sales in 2021. Download the checklist to make sure you have prepared everything from marketing and website to logistics and analytics.
1. Decide on the dates
The holiday sales started on Black Friday 2021 — November 26. Some stores offer their discounts only on Friday, others focus on Cyber Monday instead. Most businesses decide to run their promos on both days. However, the recent tendency demonstrates that more and more eCommerce stores opt for a longer sales period.
42% of shoppers start buying Christmas gifts before November. At the same time, 20% of respondents said that they will do their holiday shopping after Black Friday — in November and December. Extended holiday sales at least till New Year's Day help reach as many potential buyers as possible.
2. Craft your offer
As the next step of your holiday sale preparation, think about what exactly your offer is going to be. On one hand, your task is to create a deal your customers will find difficult to ignore. On the other hand, it still has to be sustainable for your business.
Discount-wise, shoppers have certain expectations. More than 50% of surveyed shoppers claimed that the range of the discount should be between 26% and 50%. 21% believe that the price should be cut by more than 50%.
However, the desires of the customers shouldn't be the main driver of your sales for there is a risk of getting out of business. Focus on what matters the most for your business — revenue. Calculate how much profit you aim for this season. Once you have the desired number in mind, write down a set of promo activities — including discounts — that will help you get it.
Price decrease is not the only thing that makes your offer appealing. For example, if you commit to early delivery, this will motivate many shoppers to buy Christmas presents from your store. Another way to boost a sale is by offering a "Buy now — pay later" option.


Adwisely isn't just a blog—we're a team of experts who can run efficient ads for your online store
Level up your ads
3. Research competition
For better or worse, sales don't happen in a vacuum. By this time, you must already know your competitors, what their strong points are and what your competitive advantage is. Since during holiday sales everyone goes bigger with their offers, make sure to check holiday marketing campaigns and offers from your competitors.
First, go to their website and social media channels to check if they have announced or started holiday sales. If they have, learn from them:
Pay attention to the discounts they offer
Check the delivery options they have: free shipping, fast delivery, commitment to have the order delivered before Christmas, etc.
Keep an eye on the offers not related to discounts: gifts, vouchers, referral programs, etc.
Check the messaging and creatives they use. If you are on their mailing list, study how they craft their newsletters so you can improve yours.
Second, use Facebook Ads Library to check the ads in the industry. It is a great source of inspiration and we recommend using it regularly. It helps you see your competitor's approach to marketing in action. Select the country, ads category, and then type in the brand's name in the search field, and hit Search. In the filters section, you will be able to select the date range of the ads. Select the dates close to major holidays to see if the competitors have already started running their promos on social media and how they pitch them.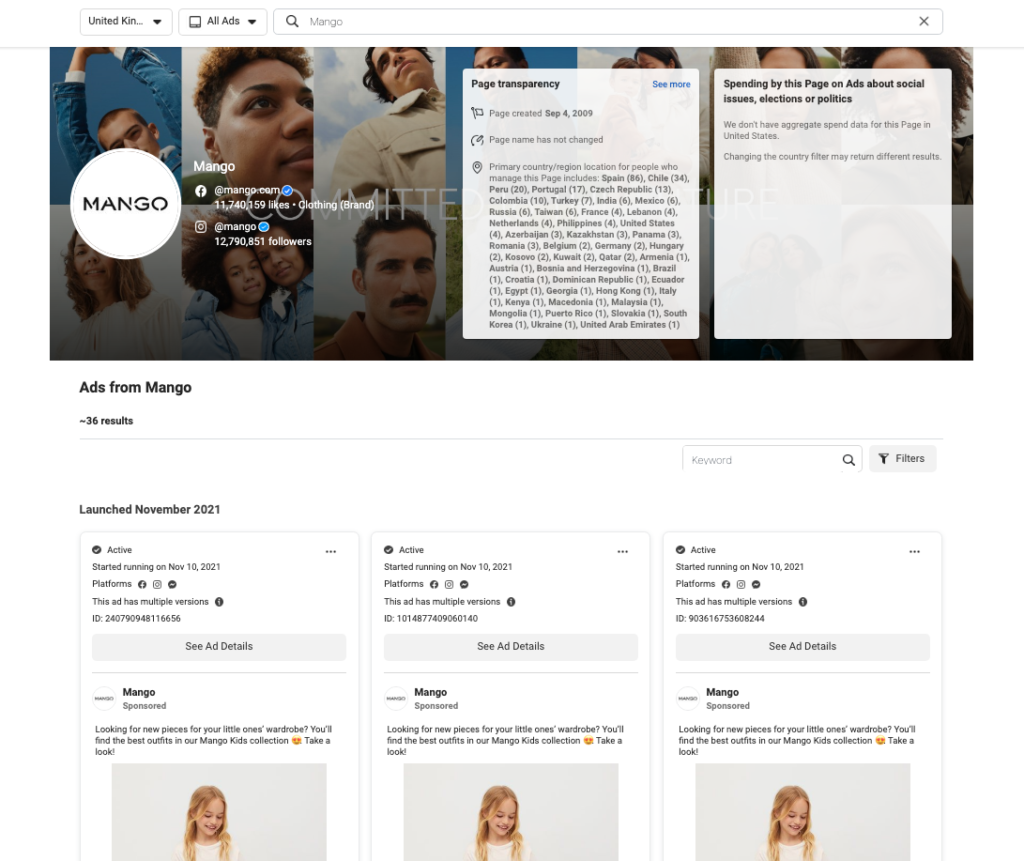 To understand competitors' marketing in the context, check their social media from last year to see how they were promoting holiday sales in 2020. Also, you can find their visual creatives by searching their holiday promo in Google Images.
4. Boost customers' loyalty
Holiday sale is not only about acquiring new clients. It helps you unlock even more sales from existing customers. Those who already enjoy your products are more likely to return to your online store or even refer you to other people.
Reach out to your clients base with an offer that rewards their loyalty. Either send them newsletters or retarget them (we'll talk about this tactic later on) with an exclusive offer. It can be free shipping, special product bundles, early access to sales, etc. Also, don't forget about your social media following as now is the time to engage them with a combination of organic posts and social media ads.
These tactics will help you strengthen your relationship and motivate customers to go further in the marketing funnel to the Loyalty and Advocacy stages.
5. Run ads to acquire new customers
To grow sales, you need to make sure many people know about your business. However, if you deliver a lot of ads to vast audiences, there is a very real risk of paying money for targeting the wrong people. When you run customer acquisition (a.k.a. prospecting) ads, focus on groups of people who are more likely to buy from you.
For example, Prospecting campaigns by Adwisely help you show your ads to people that have common interests with your existing customers. Also, these ads promote your store to those who have already checked similar businesses.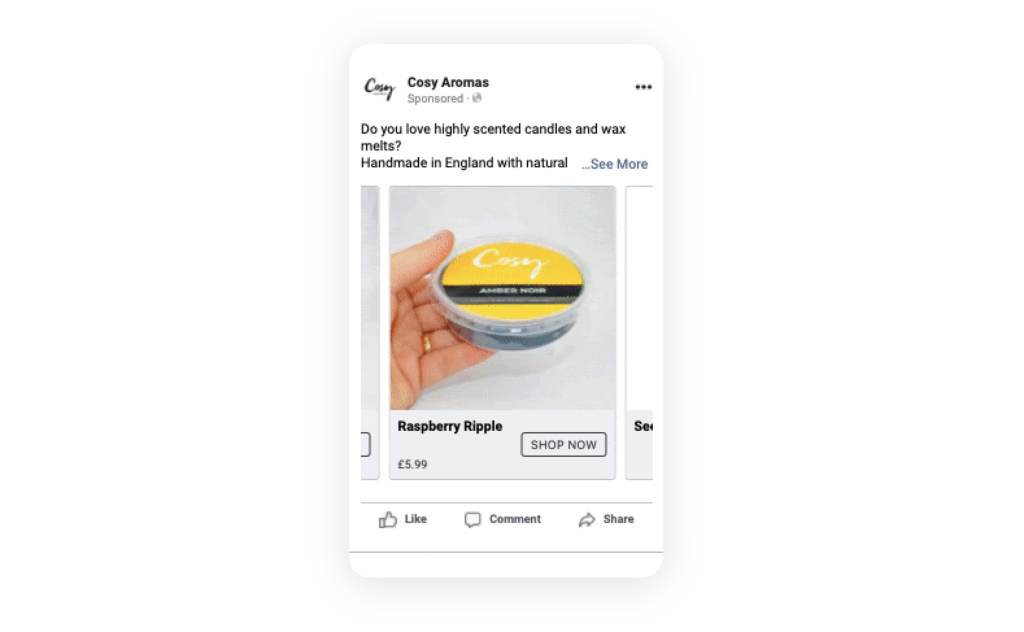 6. Run ads to re-engage store visitors
Store visitors are the most important audience to increase sales. 92% of first-time visitors leave your website without buying. However, these people are more likely to buy in the future. They have expressed their interest in your products and have already considered purchasing from you. All you have to do not to lose this selling opportunity is remind them about your store with the help of Retargeting on Facebook, Instagram, or Google.
Adwisely offers many opportunities for eCommerce merchants to reengage the visitors. Run Special Offer ads to target people who added a product to cart up to 180 days ago and/or viewed a product in your store up to 30 days ago. These ads help merchants grow their sales with ROAS up to 2400%.
7. Promote your sale
Now that you have a clear understanding of what exactly you are going to offer this holiday sale, promote your products with engaging content. There are several channels you can use:
Newsletters help you remind your existing customers and subscribers about your products, announce the sale, inform about new arrivals, etc. In your newsletter, focus on bringing value to the client. Instead of sending impersonal catalogs with products, explain how people can use them. You can share useful tips, Christmas present ideas, DIYs, special offers, etc. Not only will such newsletters draw attention to your brand, but also they may motivate people to share the content with others.
Also, show that you are not just a business with only one objective — to sell more. Demonstrate your human side by sharing your achievements and the lessons you've learned from the past holiday sales.
Social media are a great way to engage people that know your brand. To grow your social media following, invite people to follow your account in your newsletters, brand awareness ads, and on your website. You may run giveaways or occasionally offer discount coupons in your posts.
However, don't focus only on growing the number of followers. It is equally important to engage the existing ones. Create a content plan to announce and promote your sale on all social media. Don't rely only on a Facebook post — leverage Stories on both Facebook and Instagram.
Instagram Reels are another remarkable opportunity to promote your sales. You can even tag your products here to make it easy for people to access them. Check some great examples of Instagram Reels in our blog article.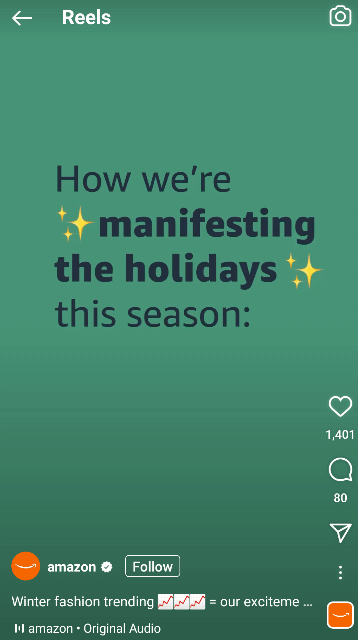 Finally, TikTok is becoming more and more prominent, especially if you want to be noticed by younger millennials and Gen-Zers.
Either platform you choose, don't forget to include hashtags in your posts, as many shoppers rely on them for looking for holiday deals. Consider using these hashtags:
#holidaysale #holidaydeals #christmassale #christmasdeals
3. Partner with influencers
You must have heard a lot about this promo channel. Maybe, you've even tried it in your marketing. 80% of marketers find it effective or very effective. So why not diversify your promotions by reaching out to influencers to promote your products during holiday sales.
There is a misconception that you have to pay big bucks to work with an influencer. While it is true for people with hundreds of thousands of followers, it is not necessarily the case for smaller Instagram and TikTok influencers. For example, if an account has around 50 thousand followers, why not give it a try and offer your product in return for a review. In many cases, influencers will gladly agree and share your product with their audience.
Also, reach out to bloggers that publish articles with the lists of gift ideas for Christmas. Research articles that are relevant to your target audience from the past year and get in touch with their authors. Offer them to feature your products in the articles. This will increase your chances to organically reach out to people who will be looking for gift ideas.
Conclusion
The holiday season is a great time to drive your sales. To seize it, you need to prepare your store well and promote it at the right time. Above, we have listed marketing steps that will help you profit from this holiday sale. However, there are so many more things to do to make sure your holiday sales are successful!
This was the first part of The Ultimate Holiday Sales Checklist: 80 Steps to Prepare for sales in 2021. Download the full printable version of the checklist to cover all the steps for profitable and stress-free Holiday season sales.