All topics
7 ways how to use Instagram Reels to promote your eCommerce store
In this article, we'll talk about what new Reels on Instagram are, how large and medium-sized brands promote their business with Reels, and how you as an eCommerce merchant can benefit from incorporating them into your content marketing strategy.
There was a time when millennials ruled the Internet. They put Facebook, Instagram, and Twitter on the pedestal and made MySpace, Vine, and Google+ things of the past. It was the millennials who decided on the trendy content formats — from lengthy blog articles and long Facebook status updates to selfies made on Instagram and Snapchat.
Seemed like the reign of internet users that grew up watching Beverly Hills, 90210, and wearing skinny jeans was limitless. However, everything changed one day when Gen-Z (aka zoomers) stepped on the scene. The next generation started changing the laws of content consumption, leaving selfies and blog posts for short, engaging videos. While other media were observing the change unfold, Instagram took proactive actions and reinvented itself — again. The platform made brief engaging video content its centerpiece and called it Instagram Reels.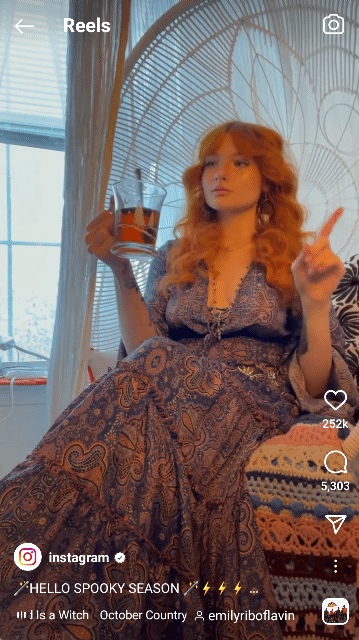 What are Instagram Reels and why they are a hot topic right now
As we've already mentioned, Gen Z — people born between 1996 and 2012 — are the main driving force behind the popularity of short entertaining videos on the Internet. They are both the main content creators and consumers.
It was zoomers who brought insane success upon TikTok. The biggest surge in the number of users of this platform happened during the pandemic. In 2020, this social media grew by a mind-blowing 75 percent and had almost 54 million weekly users only in the United States. 60% of all the people on TikTok are the representatives of Gen Z. It is not surprising as this social media offers the new generation just what they seek — an infinite feed of short entertaining videos generated by millions of users.
Instagram couldn't ignore such overwhelming growth and knew perfectly well that, in order to keep its users engaged, it needed to offer the public — specifically Generation Z — short videos. As a result, in August 2020 Instagram launched the new feature: Instagram Reels.
Here is everything you need to know about Instagram Reels:
Length: Instagram Reel is a short video clip that lasts up to one minute.
Filming: you can film this video in several parts. This helps people create a video from a few short clips with sleek transitions.
Audio: you can film the Reel with the original audio in your video, select a song from the Instagram library, or even reuse audio from trending Reels — this is how viral sounds appear.
Effects: AR Effects (masks, backgrounds, etc.) created by Instagram and independent creators enable you to make your videos even more engaging and entertaining.
Engagement: since an exciting video may be one swipe away, users can spend hours watching Reels. Also, people can store any of the reels for later by saving them. Saved Reels on Instagram can be found together with saved posts.
Long-lasting impact: unlike Instagram Stories that disappear after 24 hours, Reels are there to stay in your profile and can reach users long after publishing.
Reach: one of the best things about Reels is that they can reach not only your followers but actually any user as long as Instagram finds your content relevant to them.
You can find Reels in the Suggested Reels section in your feed or access them by tapping a middle menu icon at the bottom of the screen: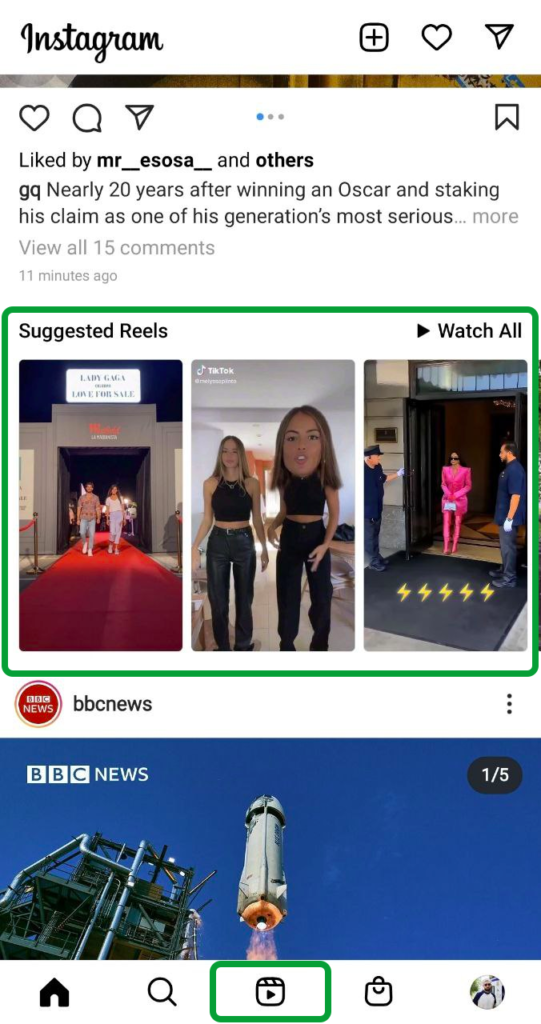 Also, you can view Instagram Reels on the Explore page: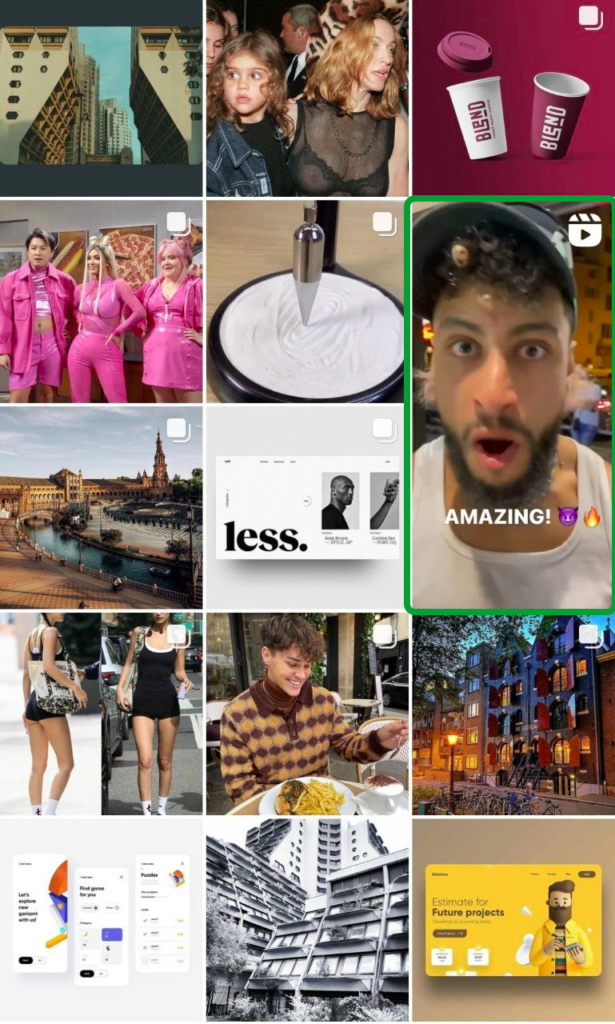 7 tips on how to promote your business with Instagram Reels
Instagram Reels are a great way to increase your brand awareness, engage your existing and potential customers, and even promote your products to increase sales. The best part is that literally anyone with a smartphone can create this type of content.
Here are seven actionable tips on how to use Instagram Reels to grow your business:
1. Talk about your business and your team
Social media is all about people, so post Reels that feature people behind your business and what their day-to-day life is like. Such type of content will show followers the human side of your business and thus will build an emotional connection with your brand.
Reel ideas:
Wish your team-member a happy birthday in your Reel
Tell people more about likes and interests of your employees
Share special moments such as major achievements or simply work gatherings.
Reels are a great way to show people how they can benefit from using your product. Demonstrate not only What products are available, but also How they can use them. These short tutorials will boost your brand awareness, let you showcase your product range, and motivate people to buy from you to recreate the looks and effects they saw in the video.
Reel ideas:
Share top 5 tricks related to your products: how to remove make-up fast, store clothes, clean shoes, etc.
Offer a series of DIY lessons using your products
Talk about the latest trends in your industry.
3. Let people know about your promotions
As an eCommerce merchant, you probably have seasonal sales and special offers. One of the main objectives for you is to tell as many people as possible about your (offers and) deals. Reels are a great way to spread the word between your current customers and larger audiences of people who haven't been to your store yet.
However, don't make your video too promotional. For example, a promo video with trending audio will look quite organic among other Reels and won't be perceived as a "hard sell."
Reel ideas:
Showcase all the promoted that can be purchased at a discount
For holiday discounts, you can use the decorations and/or costumes related to the holiday
If you offer a promo code, make it available right in the video (make sure the code is short, easy to remember, and hard to misspell).
4. Run Instagram Reels Ads
As you must know, Instagram Ads are a great way to increase your sales with Retargeting, Prospecting, and other types of ad campaigns. Instagram Reels are just one of the placements where your potential customers can find out or be reminded about your store. Some objectives you can use Instagram Reels ads for are:
Building brand awareness
Expanding your reach
Increase website traffic
Conversions
You can set up such campaign only in the Ads Manager — Reels are not available as an ad placement on Instagram app at the moment. Make sure to use the video of the right format: 9:16 ratio and the size 1080 pixels by 1920 pixels. In the Placements section, select Manual placements and then tick Reels in the list of available placements on Instagram.
Reel ideas:
Showcase your best-selling products
Offer some ready-made looks instead of separate looks
Feature a product together with reviews in your Reels.
If you want to automate your ads on Instagram, as well as on Facebook and Google, and get high ROAS, try Adwisely for free for 14 days.
5. Repost Stories as Reels
This trick comes in handy when you don't have that much time or resources to create new Reels. Go through your old Instagram Stories and select the most engaging ones to post them on your Reels.
To access your old Stories:
In the Instagram app, go to your profile.
Tap the hamburger menu (three horizontal lines) in the upper right corner.
Choose Archive.
In the dropdown menu on the top, choose Stories archive. You can view your stories as tiles, ordered by the date of publication, or grouped by location.
Open the story you want to save, swipe up, and tap the download button — an arrow pointing down.
Reel ideas:
Select those Stories that generated the most responses
Avoid interactive Stores as in Reels interactions will not be available
If you have Stories with influencers, repost them as Reels and tag the influencer for the social proof.
6. Post customers' reviews and testimonials
Social proof is one of the most potent ways to build trust and motivate people to buy from you. That is why it's in your best interest to encourage your existing customers to share their opinions about your products. Reels are a great format for customers reviews for several reasons: they always stay on your profile, they are short and may be less formal — therefore, more engaging — than reviews on your website.
Reel ideas:
Ask your customers to record a short testimonial, so your Reels look even more organic
Post a Reel with your customers using the product
Ask your customer to send you an unboxing video — you can edit it into a one-minute Reel.
7. Tag products in Reels
You can tag products in your Reels just like in ordinary Instagram posts. There are up to 30 products you can tag in your Reels — this will let your viewers purchase without leaving Instagram. Note that to do so, you first need to complete the set-up of Instagram Shopping.
Follow these steps to tag products in Reels:
Create your Reel by either filming it with your phone or uploading it from the existing videos, and tap Next.
Select a cover image and type in the caption.
Tap Tag Products and select the product(s) or collection you'd like to feature. Then tap Done.
Tap Share for the Reel to go live.
Reel ideas:
Choose the cover image with a person it is as people are more likely to pay attention to it than to a product only
Group the products by themes: a look for a party, gift ideas for him, etc.
Don'f forget to tag the used products in your educational video (see Tip 1 above).
Adwisely isn't just a blog—we're a team of experts who can run efficient ads for your online store
Level up your ads
Benefits of Instagram Reels for your marketing
More and more people are drawn to Instagram Reels, and many businesses see it as a great opportunity to promote their brand and products. Here are three major benefits of posting Reels for your eCommerce store:
Your content becomes more visible: since Instagram Reels are shown not only to your followers, but to anyone who might be potentially interested in your content, you can reach a broader audience.
Your content is easy to share: unlike Instagram Stories that become unavailable after 24 hours, Reels are there forever. People can share and view your content long after its publishing.
Your content becomes easy to find: Instagram puts a lot of effort into promoting Reels. Such short videos are one tap away from users' feeds, they are displayed on the Explore page and in the feed. Focus on creating the content relevant to your audience by following the tips above, and Instagram algorithms will take care of delivering it.
How to make Reels on Instagram for your business profile
To create a Reel, follow these steps:
1. Open the Instagram app on your phone and go to Reels by tapping the middle icon at the bottom of the screen: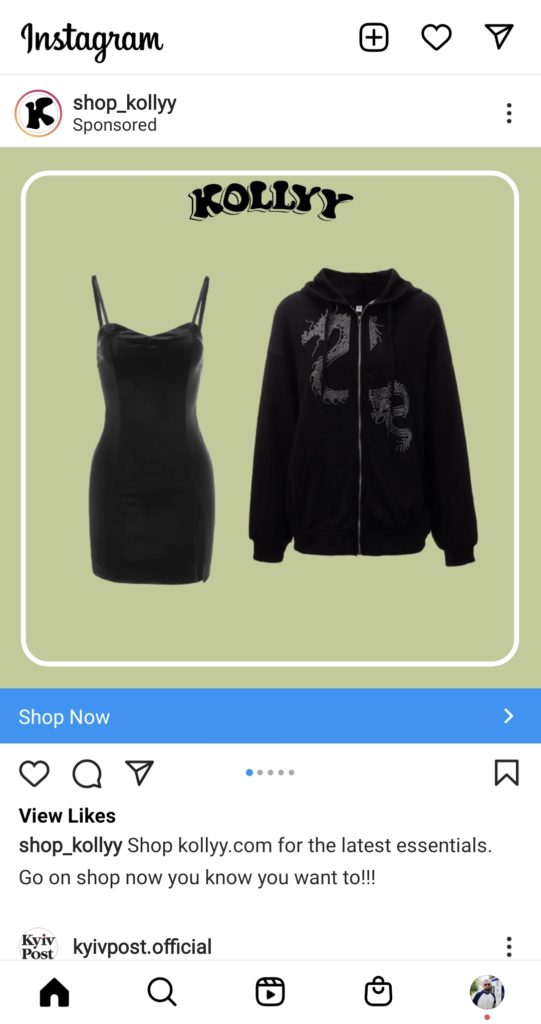 2. Tap the Camera icon in the top right corner: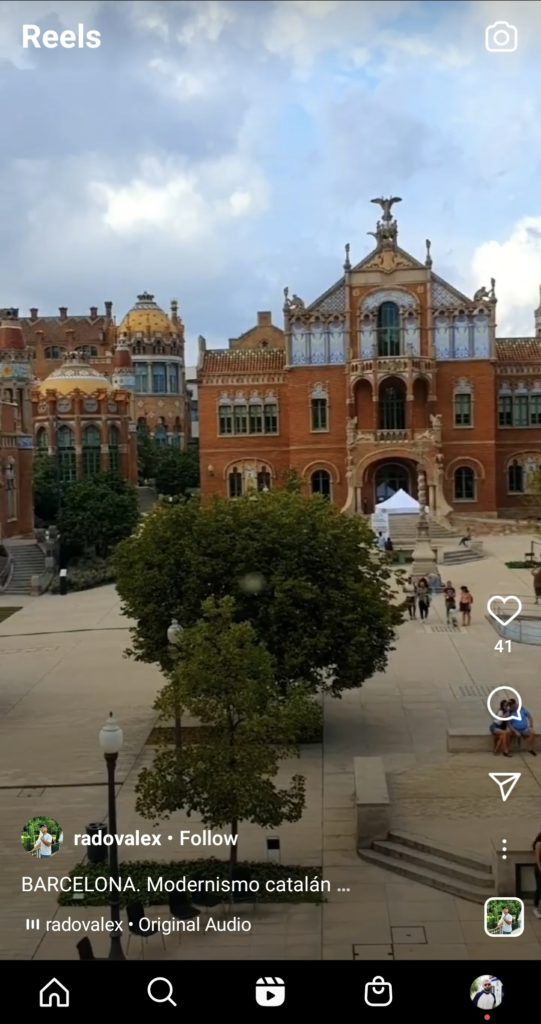 3. Your camera will open. You can start filming a Reel directly or upload a video from your Gallery: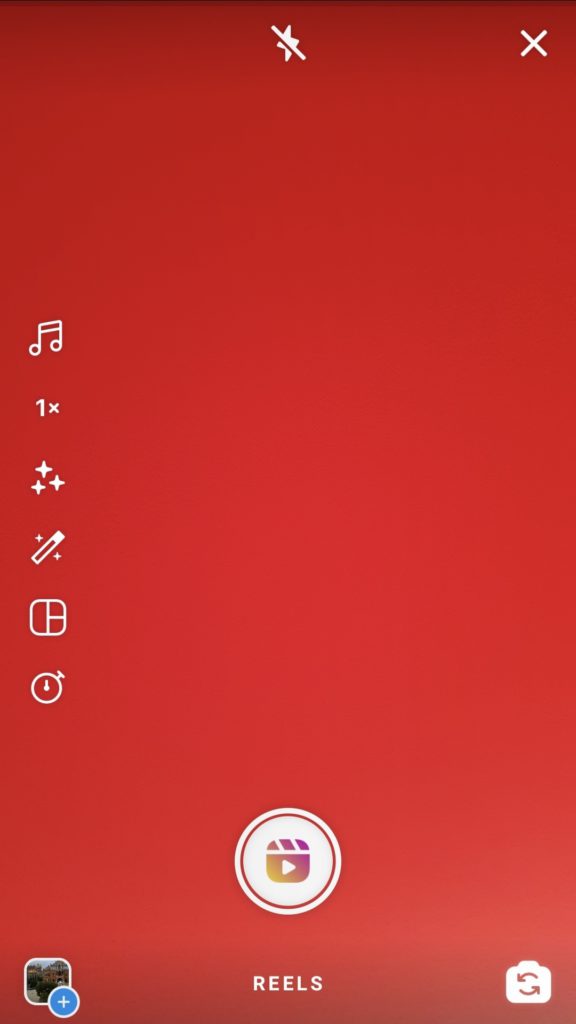 4. If you make a Reel in the app, you can film several short video clips. To start filming, tap the Reel button, to stop — tap the Stop button: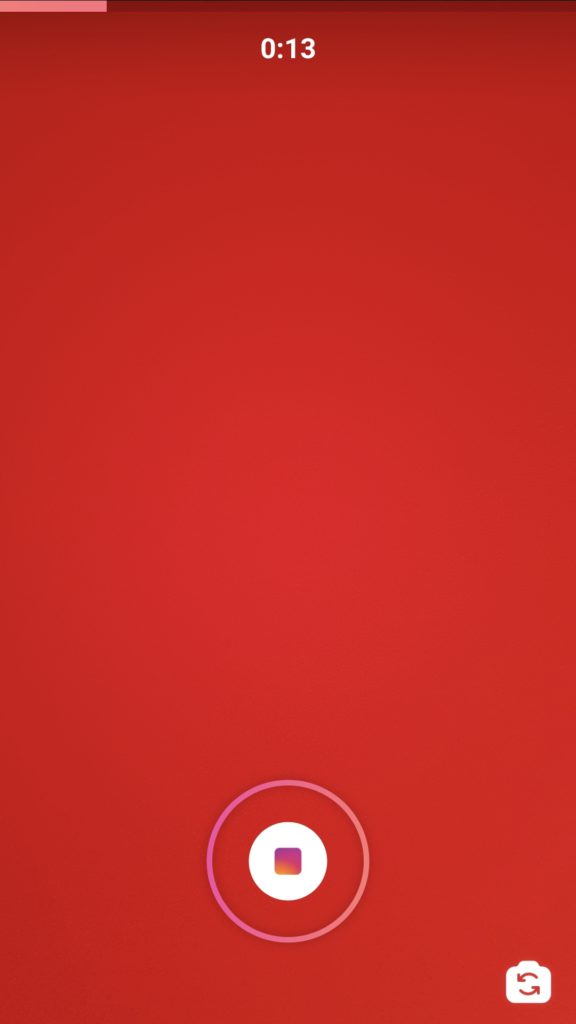 5. Tap the Back arrow to edit the filmed video clips. When you're done filming, tap Preview: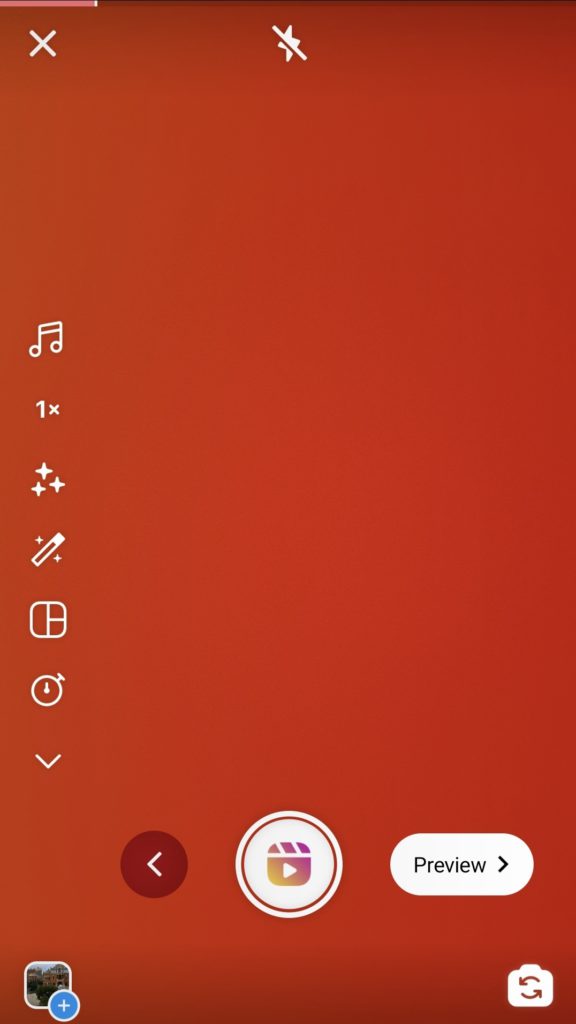 6. At the next step, you can add effects, audio, and text to your Reel, as well as download it. Once you're ready, tap Next: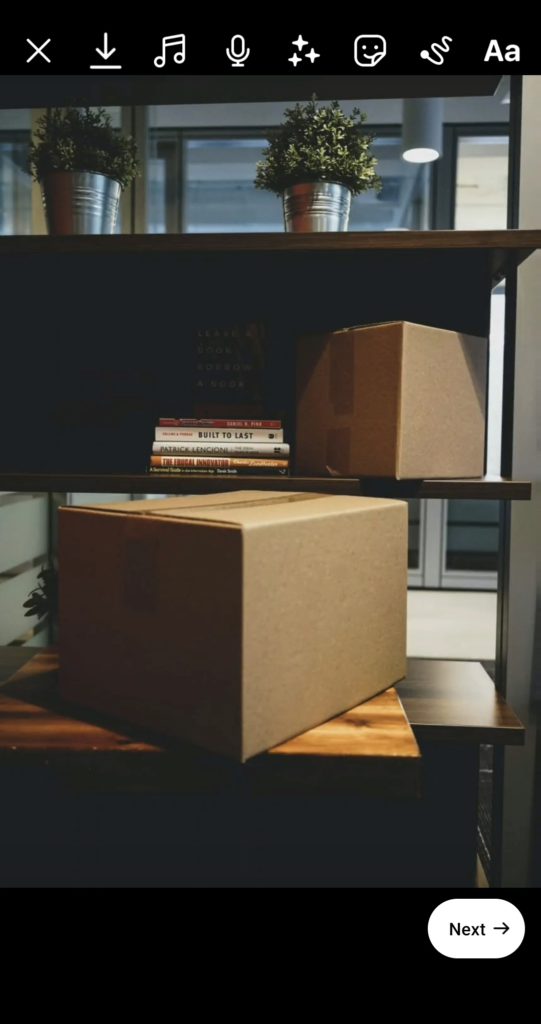 7. You can choose the cover for your Reel. It can be either a shot from the video or an image uploaded from your Gallery. Also, here you can Tag people, Add a location, Rename audio and choose to publish your Reel to Feed:
8. Lastly, you will view more info about Reels. To publish your video, tap Share: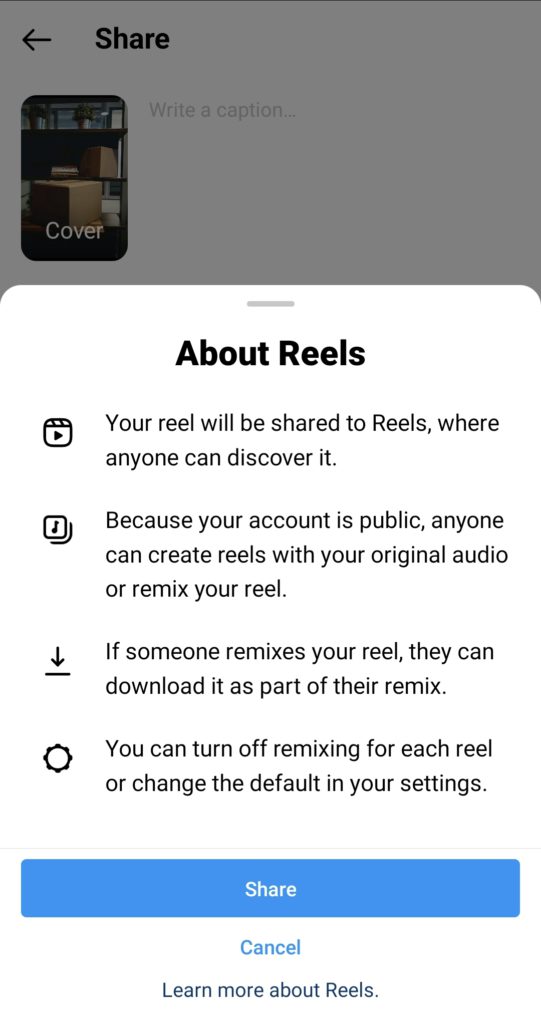 How large businesses use Instagram Reels
Instagram Reels became popular quite fast not only among people but also businesses. Instagram Reels most probably won't drive your sales right away. However, they are a great way to engage your audience and as a result, increase awareness and loyalty, and build your brand. All this will inevitably lead to higher sales.
This is why large businesses were quick to implement Reels into their content marketing strategy. Here are some great brands that used the Reels:
H&M
The content marketers of this international brand understood the assignment perfectly well when it came to Instagram Reel. They realized that this format is perfect for promoting their clothes by showcasing a variety of looks.
H&M content creators are either frequent users of Instagram Reels and TikTok, or they did their homework very well. They definitely know how the audience talks and don't shy away from using the lingo of the younger generation (for example, POV — point of view):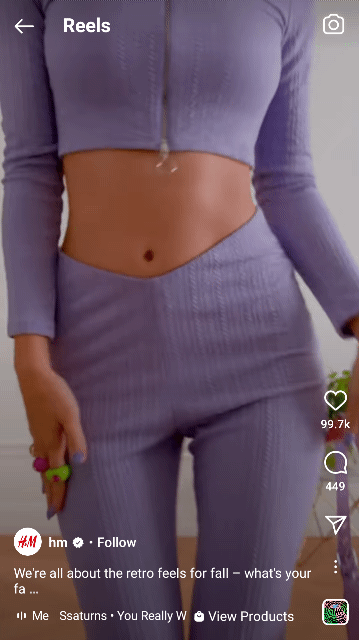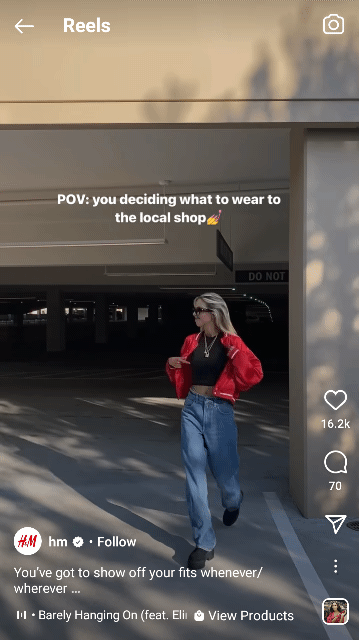 Samsung
This giant electronics brand chose a completely different approach. Their Instagram Reels strategy is to publish a variety of content types to both entertain their followers and promote their product.
Thus, some of their Reels are made to resonate with their target audience — tech lovers: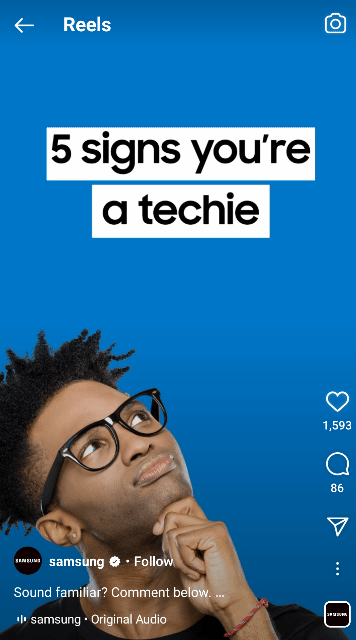 Also, the brand publishes visually engaging content that has become the brand's most viewed Reel on Instagram and has a huge potential to become viral: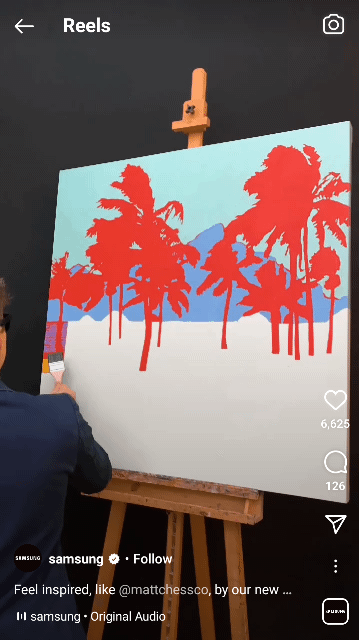 Of course, Instagram Reels are not shown only to entertain — they need to meet the business needs as well. Samsung's Instagram Reels also promote their products and features in the Reels directly: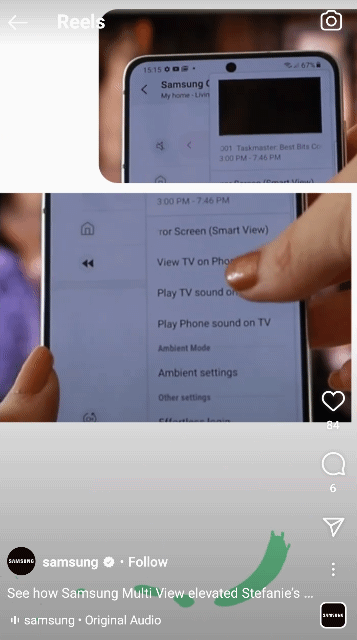 Pandora
This internationally renowned jewelry brand uses Reels of different styles to talk to its audience. Here you can find a promo of their latest collection with mega pop stars like Charli XCX. Right next to it, there's a lifestyle video with Instagram influencers skating down the streets. Also, Pandora publishes videos that look like user-generated content. There is one thing that all Pandora's Reels have in common — the main focus is always on the pieces of jewelry: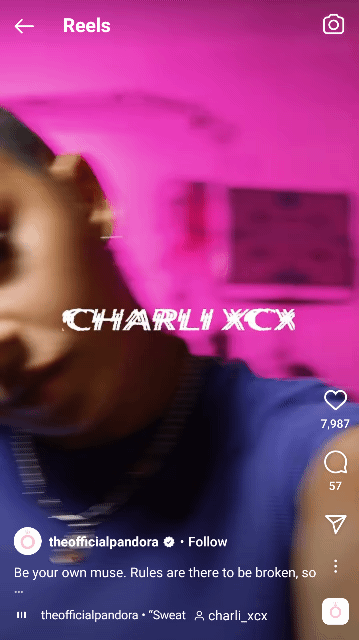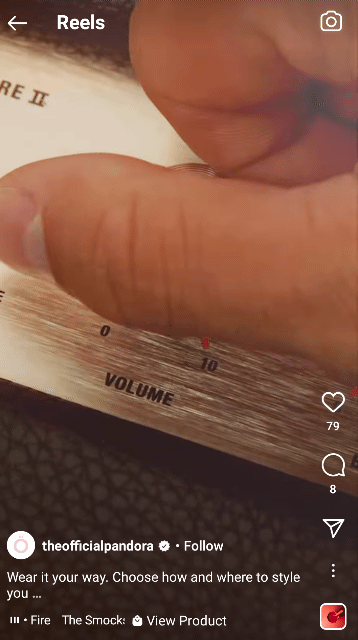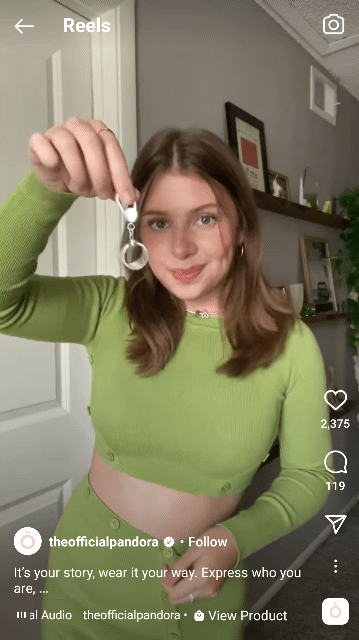 How mid-sized and small eCommerce stores use Instagram Reels
Now that we've seen how businesses with huge budgets for content production adopted Instagram Reels, let's talk about creating this type of content without breaking the bank. Here are some Reels examples from Adwisely customers:
Sleeper
Sleeper is a fashion brand that offers ethically crafted high-quality clothes that make you feel comfortable and look stunning, both at home and in the streets. While the brand is loved by A-list celebrities, it is made for everyone. Sleeper is sincere and genuine in its communication with customers everywhere from the website to social media. Instagram Reels is no exception.
The Reels this store publishes is a great combination of elegant looks, the life of the team behind the brand, and aesthetically pleasing videos. The brand knows exactly who they are talking to in their Reels — zoomers that spend hours on TikTok. That is why most of Sleeper's videos feature viral audio from that platform.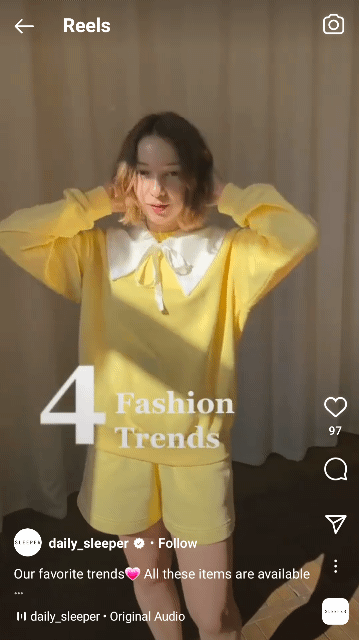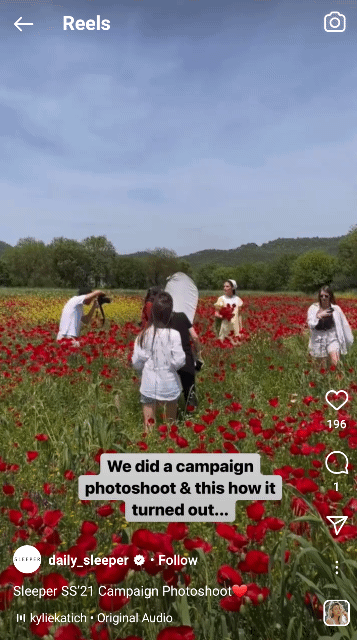 Sleeper doesn't just cross-post their videos. Most of their content on TikTok and Reels is different. Note that content from the former platform has a TikTok watermark on it). Even those videos that look the same on both platforms have different sounds, which is why followers do not get bored with the repetitive content.
Lunautics
Lunautics is a festival beauty brand that offers a range of products from face jewels to hair extensions, clothes, and accessories that keep festival-goers stylish. Their Instagram page has gathered a community of fest lovers. The content there is not that much about the product promo, but more about people who go to festivals and tips that help them be in the spotlight.
As for their Reels, Lunautics showcases how their products help create eye-grabbing festival looks. Here followers can find style inspirations for specific festivals, like this one for Nocturnal Wonderland: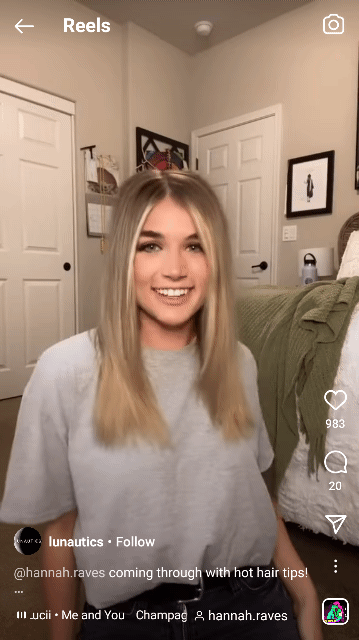 Also, the brand increases its exposure by featuring not only influencers with hundreds of thousands of followers but also micro- and nano-influencers: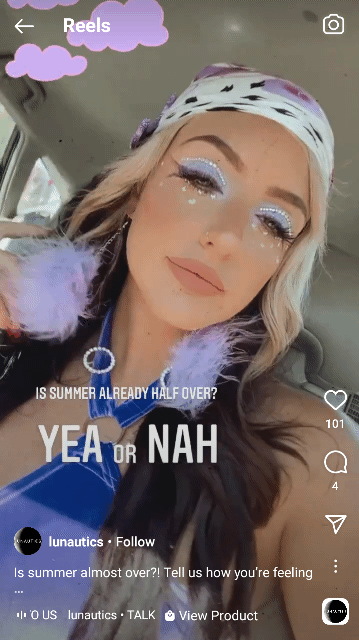 EZ Blade
EZ Blade is a brand founded by barbers passionate about their craft. The mission of their business is to "give the clients the best shave possible." Since the quality of the shaving products is as important as the skills of the barber, EZ Blade started offering shaving products made in the USA to help barbers give the best shaves and make sure clients enjoy their experience.
The target audience of EZ Blade is not only barbers but also all men seeking an enjoyable shaving experience — and the content in their Reels meets the needs and interests of both. Here, the followers can find tutorials on how to shave, client-generated content that features EZ Blade products, and videos of barbers giving their clients stylish and unconventional haircuts: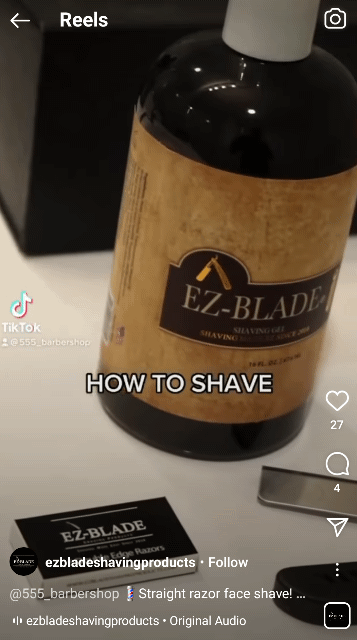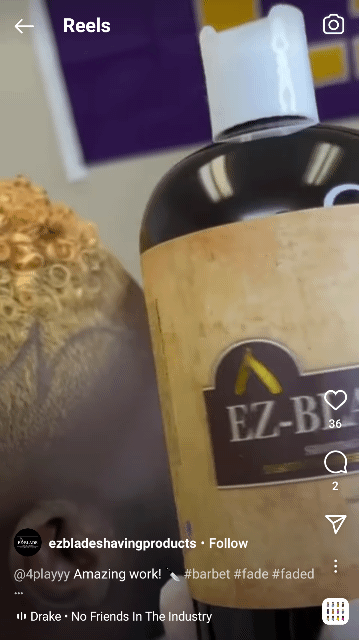 Conclusion
Even though Reels are a relatively new way to present content, they are steadily gaining popularity among people and businesses. Brands of different sizes with different budgets tap into this opportunity to promote themselves. Instagram Reels are your chance to establish strong relations with your audiences, build a community, showcase your products, and grow your sales.
Try Adwisely to grow your eCommerce store with fully automated ads on Instagram, Facebook, and Google — get a 14-day free trial.