All topics
Black Friday Ads 2021: 10 ways to stand out from the competition
For many people, the second half of fall is about spooky Halloween, pre-holiday arrangements, and pumpkin spice lattes.
However, eCommerce reality is not so hassle-free. For you, the fall is the busiest season of the year with Black Friday and Cyber Monday (BFCM), as well as Holiday sales. This season may be filled with stress and anxiety, long hours, and nerves on edge.
The stakes are high. If done right, fall can become one of the most rewarding times for eCommerce merchants — especially now, during the pandemic. 43% of people said that they shop online in 2021 more than ever before. This holiday season, there's going to be a real battlefield between eCommerce merchants to allure people into their online stores with significant discounts and tempting offers.
In this article, we offer you top Black Friday marketing strategies that will let you get ahead of your competitors and focus on your customers.
The insights from the past Black Fridays to learn from
Before we talk about Black Friday ideas, let's look into the past. Here are three key takeaways from the past BFCM sales that will help you make informed decisions in the present:
eCommerce Black Friday market is to hit $9.5 billion
2020 was the first year when Black Friday took place during the pandemic. Naturally, because of health risks, most people chose to do their shopping online around that time. As a result, people spent $9 billion on online shopping — 22% more than in 2019. This number is projected to increase in 2021 hitting $9.5 billion.
Takeaway: if you had doubts about whether you should run Black Friday campaigns, this is a powerful argument in favor of running BF sales. People will be buying this Black Friday, so make sure to remind them about your business by holding a BF promo event.
People expect a 26-50% discount
As competition is raging among eCommerce stores during BFCM, customers are getting used to more and more benefits this time of the year. People expect major discounts on Black Friday. 51% of shoppers believe that the price decrease should be between 26 and 50%. 27% have slightly more moderate appetites saying that the price should be reduced by 10-25%. Meanwhile, 21% of respondents state that Black Friday discounts must amount to over 50%.
Takeaway: trying to entice customers with 5% off may not be not enough on Black Friday and Cyber Monday, as shoppers are looking for more impressive discounts. Consider starting at least with 15% off.
40% of purchases were made on smartphones
About 40% of all Black Friday online shopping was done on smartphones in 2020. That is $3.6 billion worth of sales — 25% more than the previous year. Online shoppers are neither patient nor loyal to put up with poor shopping experiences, so if the mobile version of a web store is flawed, people will most likely leave this site and go to your competitors instead.
Takeaway: eCommerce store owners need to focus as much on their mobile version of the store as on their desktop sites when getting ready for Black Friday and Cyber Monday sales season.


Adwisely isn't just a blog—we're a team of experts who can run efficient ads for your online store
Level up your ads
10 actionable strategies for BFCM campaigns in eCommerce business
Now that we've seen the BFCM market tendency and the customers' expectations and behavior, let's take a closer look at some Black Friday campaign ideas that can bring more customers to your store and increase sales.
1. Prospecting campaigns
The fact is that most of the people that buy from you during the BFCM are those who already know about your business. So your first task should be to let more potential customers learn about your store and its Black Friday offers. This is where Prospecting steps into the game.
Prospecting ads help you increase sales by reaching larger audiences. With this tactic, you target people who share interests with your customers or those who have already bought or seen products similar to yours. Running Prospecting ads will help you increase brand awareness and bring more visitors to your side.
Run such ads at least two weeks before Black Friday and you will kill two birds with one stone:
You will spend less on advertising, as running ads in advance will be more affordable than running them on Black Friday;
As more people become aware of your store, many of them may return on Black Friday to make that purchase. If they don't, you can bring them back with Retargeting (see the next idea).
What's more, many people start their shopping before Black Friday. Many large online retailers and marketplaces — including Amazon — meet the demand and offer discounts long before the actual date. Prospecting ads are a great way to promote an early offer to potential customers by offering them a discount on the product they are interested in.
2. Retargeting campaigns
Only 2% of shoppers are likely to buy from you on the first visit, which is a shame — especially after investing all the time, effort, and money into Prospecting campaigns before Black Friday. That is why it is important to have a strategy to bring your store visitors back and convert them into paying customers. In other words, you need Retargeting campaigns. By running this type of Black Friday ads, you reengage people that visited your store within the past 2 weeks by showing them relevant products. You can even set the ad up so that every person sees the very product they were interested in.
With Adwisely you can enhance the power of retargeting (aka remarketing) even more using Special Offer ads. This tactic allows you to run the best Black Friday campaigns by retargeting interested people when they are most likely to make a purchase. You can run this short-term promo during any special occasion, be it Black Friday, Cyber Monday, St.Valentine's Day, or your store's birthday. Offer campaigns reach all the people that have added your product to cart within 180 days and viewed your products within 30 days.
Here are some of the examples of Black Friday Facebook ads delivered as a part of Special Offer campaigns powered by Adwisely: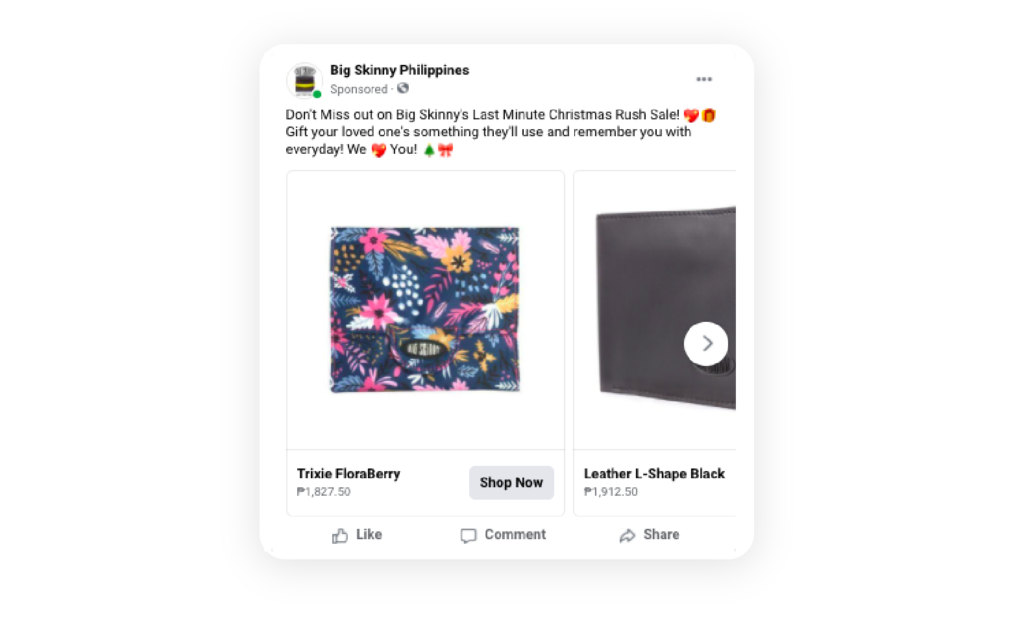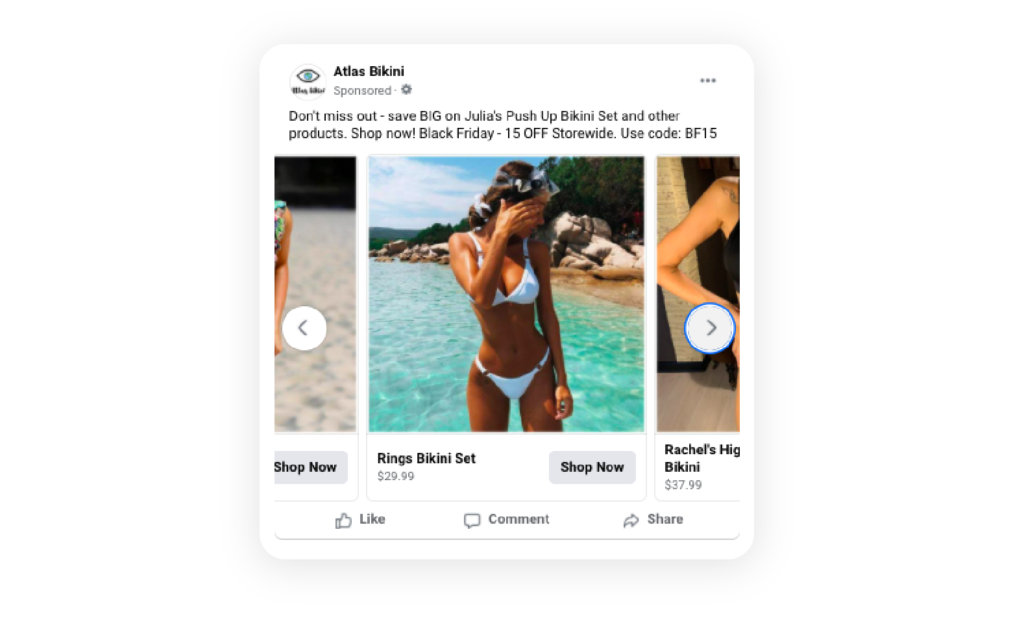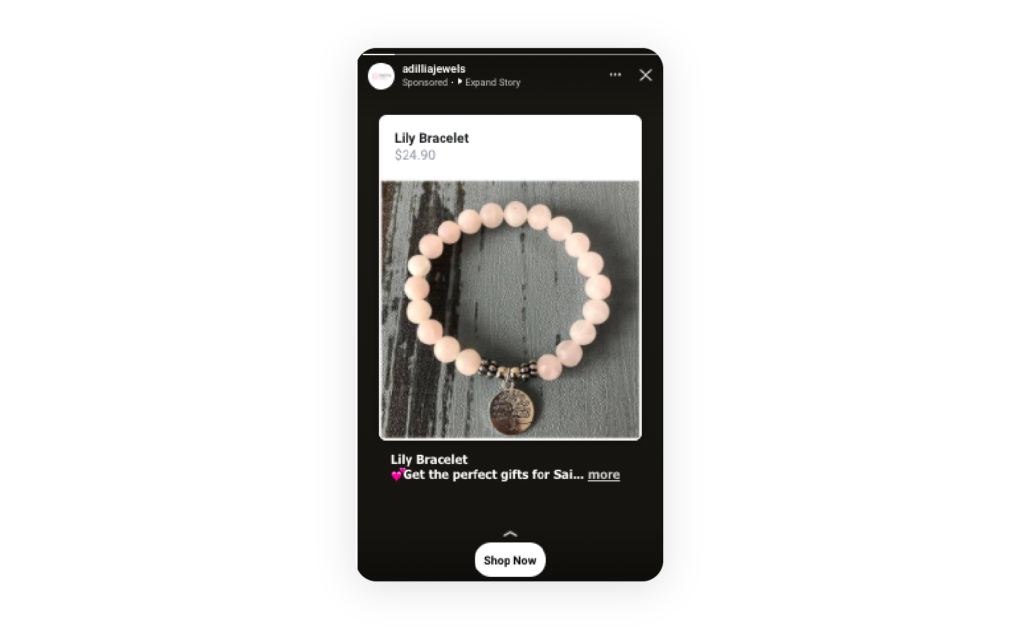 3. Influencer marketing campaign
This is a great way to stand out from the crowd on Black Friday. While other brands bombard people with BF ads and promo emails, you can partner with an Instagram or a TikTok influencer to promote your sales more genuinely. For the best result, arrange an influencer endorsement a couple of weeks in advance to promote your business before the sale.
However, don't go too hard overselling your business. If the influencer in the video is actively selling your product by using sales clichés such as "the best product on the market, buy now", it will be no different from the ads. For more personal promo, ask influencers to make an unboxing video or a review of your products.
Also, don't forget to measure the performance of each influencer you partner with. This can be easily done by asking the influencer to use a link with UTM parameters. It will help you see, how many people followed the link. You can track the stats with Google Analytics or a similar tool.
Another option is to give each influencer a promo code and then check how many people used it while making a purchase.
4. Email marketing campaign
Not all your strategies have to require marketing budgets. For example, email is a great channel via which you can inform your audience about the Black Friday and Cyber Monday offers.
Consider sending a sequence of these 5 emails:
One week before Black Friday: announce the sale that you'll have.
Thursday before BF: remind people about the sale for them to have your offer fresh in their memory.
On Black Friday: announce the start of the sale early in the morning. This email should contain a Call-To-Action button linked to your website and the countdown informing how many hours are left before the sale ends.
On Black Friday evening: the final email in the sequence should inform about the sale coming to an end soon. This newsletter must make it clear that it's the last chance to purchase at a special price.
On Saturday morning: announce the extended sale for several hours — or even days — more. This will increase your chances to get even more sales during Black Friday weekend.
During BFCM people will indeed be bombarded with emails from a myriad of companies and only a fracture of newsletters will be opened. Focus on crafting catchy subject lines. Make them clear and straightforward by saying directly what people can get and by how much the price is reduced. For example:
50% off hoodies — Black Friday Sale
40% off everything this Black Friday
Black Friday — 25% off and Free Shipping
Last call: save up to 70%
5. Flash sale
Flash sale is a promo type when the store offers impressive discounts during a very short period. While some say that such sales should last from 24 to 72 hours, others argue that they should last up to 4-6 hours.
The common belief is, however, that the shorter the flash sale is, the more urgency it creates. The fear of missing out on such a rare opportunity should motivate more people to make a purchase.
Here are some of the benefits of a flash sale for your business:
Increase sales by playing on the fear of missing out.
Nurture customer loyalty by creating a positive buying experience and offering significant discounts and/or free shipping.
Free up storage space by selling excess products.
Grow customers base: by giving considerable discounts, you will inevitably attract new customers. Also, word of mouth will bring you even more clients if the discounts are especially lucrative.
Special Offer ads by campaigns by Adwisely are great for running flash sales. They let you target broad audiences that are more likely to make a purchase.
6. Cross-Sell and Upsell campaigns
You are 65% more likely to sell to existing customers. They already know about your business and products, and — hopefully — have a positive experience of buying from you. Black Friday is the perfect time for you to reach out to these people with some relevant offers.
Cross-Sell enables you to target your existing customers by offering a product complementary to the one they have already purchased. In turn, Upsell ads will help you promote your products to those who have viewed items on your web store by offering a more expensive version of the product they were initially interested in.
With Adwisely, you can quickly automate Cross-Sell and Upsell campaigns on the most popular ad platforms — Facebook, Instagram, and Google. Also, you receive ongoing guidance from your personal online ad manager — an expert who helps you gain the maximum profit from your campaigns.
7. Referral program
Speaking of word of mouth — referral programs are still one of the most effective ways to both increase sales and grow your customer base. With this tactic, you can increase your traffic by 160%.
Crafting the offer that is hard to ignore is half the battle won. The best thing you can do to nail this task is segment your customer base by purchase history and offer each group the most relevant products as incentives for referring you to a friend.
Also, keep in mind that if you promote a referral deal on Black Friday along with other discounts, you're not competing against your competitors only, but also against your own deals. Since the referral program helps you increase both sales and customer base, make this offer stand out by giving a discount to both parties: the referrer and the referee.
Another referral strategy that has proven to be successful is giving gifts to referrers. For example, some eCommerce stores that have a subscription plan offer their users a free month for bringing a friend that makes a purchase.
You can also give referrers promo codes from partner stores. Thus, you will promote two businesses at the same time. If your partner does the same, you both get to boost your reach and sales.
8. Free shipping
Shoppers often expect more than just a discount on Black Friday. Another major benefit that most eCommerce merchants offer is free shipment. As a matter of fact, 9 out of 10 people say that free delivery is the most powerful encouragement. What's more, the average value of an order that comes with free shipping is 30% higher than that of orders where shipping is paid separately.
Since most of the products purchased on Black Friday are bought as Christmas presents, you can motivate people to buy from you if you guarantee free delivery before Christmas Day. Just make sure that you can deliver on the promise — otherwise, there's a risk of dealing with disappointed customers and receiving angry reviews.
Of course, free shipping is not free at all. It is the bill that you, an eCommerce merchant, have to foot. That is why it is crucial to calculate the shopping threshold to make sales profitable. This article by Shopify should help you determine the threshold for your business.
9. Social media posts
Whether you have been consistently posting photos, videos, and Reels, or sharing an update once a month, Black Friday is one of those times a year when you must leverage social media platforms. This is yet another large channel where you can announce your sales and showcase all the benefits of making a purchase this day. To expand your reach beyond your followers, you can also boost your post and story to deliver your offer to more people at a relatively low cost.
Don't forget to use hashtags, especially on Twitter, Instagram, and TikTok. Many users who are looking for sales will search for content this way, so this is your chance to spread the content for free. Make sure to include such hashtags as #blackfriday #cybermonday #bfcm #sale #blackfridaysale #blackfridaydeals.
10. Banners on your site
This idea is often overlooked by many eCommerce merchants. They focus so much effort on other promo channels — social media, ads, emails, etc. — and completely forget about their website. However, many people will still go to your site without seeing your BF promo. What a shame it would be if people ended up on your site, couldn't find any info about the BFCM sales, and left. This mistake can be easily averted with at least one banner on various pages of your website. Make sure that this is the first thing that people see on your home page. The banner should be eye-catching and informative, and clearly explain what discount you are offering, what one needs to do to get it (i.e. buy something before midnight, buy 3 to get the 4th item free, or enter a promo code), and when the end of the sale is.
Conclusion
Soon, the largest race in the eCommerce world begin. However, you don't need to step into the competition trying to outperform other stores and spend too much on marketing. Instead, implement the 10 strategies listed above to make sure you are engaging relevant audiences at a reasonable price.
To gain the most out of your advertising campaigns this Black Friday and Cyber Monday, automate your ads with Adwisely. The app together with marketing specialists will help you boost sales with on average 600% ROAS — all to make sure the odds are ever in your favor.