All topics
Family business hits over 9 thousand purchases with Adwisely
Adwisely makes online advertising easy and efficient. What's more important, however, is that it lets online stores save time and grow their sales – especially during the holiday season – by fully automating online ads on Facebook, Instagram, Messenger, and Google ads for them. We are proud to have helped thousands of online businesses and would like to share some of their stories.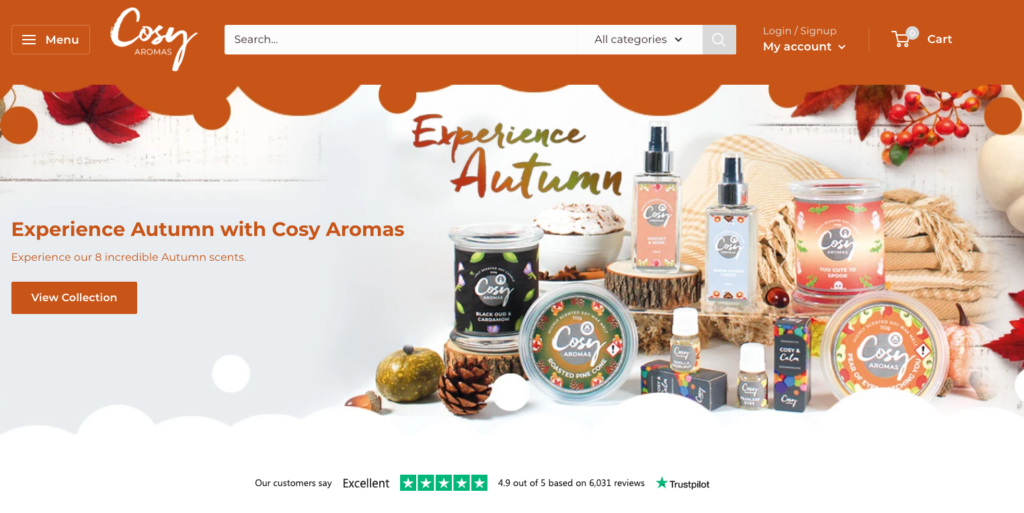 Cosy Aromas

Back in 2018, Cosy Aromas was a small business with the headquarters Paul & Tamar Maynes' kitchen. It all started with the family making small wax melts — scented pieces of wax melted in a warmer — focusing on quality excellence. This approach led to remarkable success, and only in one year the business received over 10, 000 orders.
Today, Cosy Aromas is a large business with a store powered by Shopify and a 10,000 sq ft warehouse. Also, the Maynes managed to gather a massive social media following: over 46,000 followers on Facebook, 20,000 followers on Instagram, and a 4.9 rating on TrustPilot based on staggering 5,819 reviews.
Challenges
One of the primary objectives of the Maynes was to build up their client base, as it would bring revenue necessary for developing their business. The owners realized that they needed to reach out to new people who were interested in wax aromas, but didn't know about the great selection at Cosy Aromas.
Also, as a seasoned digital marketer with 16 years of experience, Paul knew that most people wouldn't make a purchase upon their first visit to the online store. Cosy Aromas would need to remind the visitors about the products they viewed and motivate them to buy.
With time, Cosy Aroma grew into a large online store with a wide selection of items — from wax melts and candles to fragrance oils and room sprays. Since 41% of all sales in eCommerce is made by returning clients, Cosy Aromas wanted to re-engage their past customers.


Adwisely isn't just a blog—we're a team of experts who can run efficient ads for your online store
Level up your ads
Solution
Prospecting & Retargeting
To resolve the first two problems, Cosy Aromas ran Prospecting and Retargeting campaigns on Facebook and Instagram with Adwisely.
Prospecting campaigns targeted people who were interested in wax melts, scented candles, etc. but never heard of Cosy Aromas, by showing visually compelling creatives. To make sure that a person would see as many items as possible, the ad creatives featured a carousel with animated images on each card.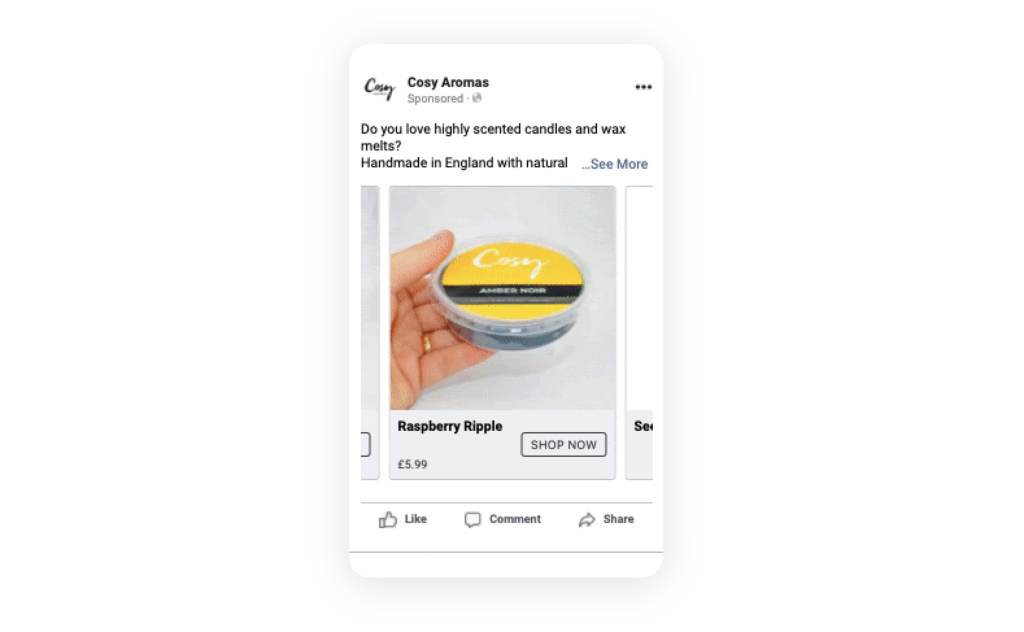 In turn, Retargeting campaigns have been helping the business keep in touch with the website visitors. The ads feature a carousel with items the people have previously viewed, along with similar products.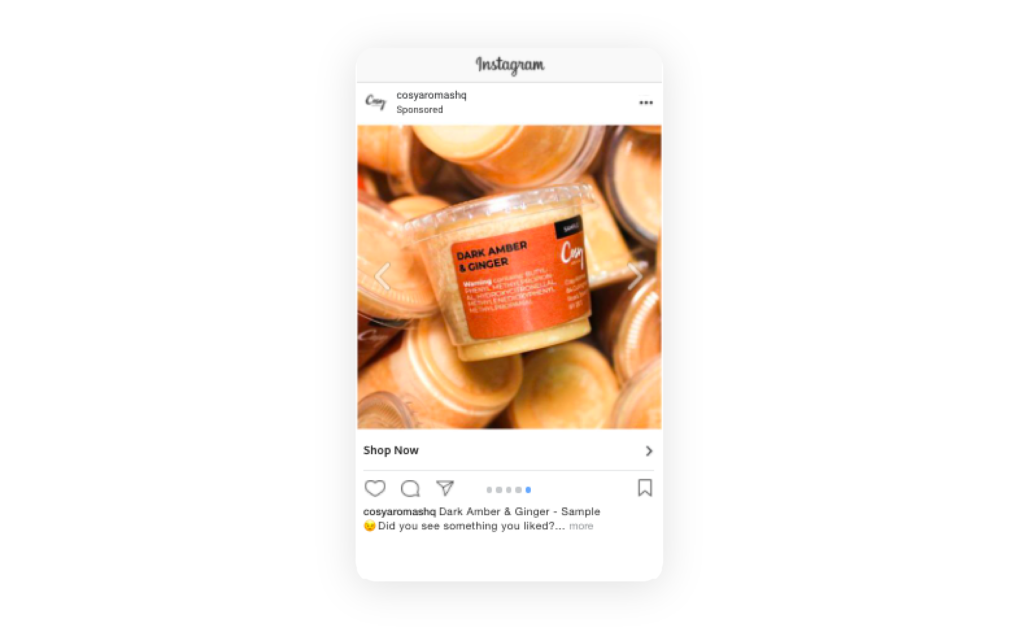 Cross-Sell
Also, Cosy Aromas ran Cross-Sell campaign to further grow their sales. These ads targeted existing customers based on their purchase history. In the ads, people saw complementary or similar products to those that they had previously bought from the store.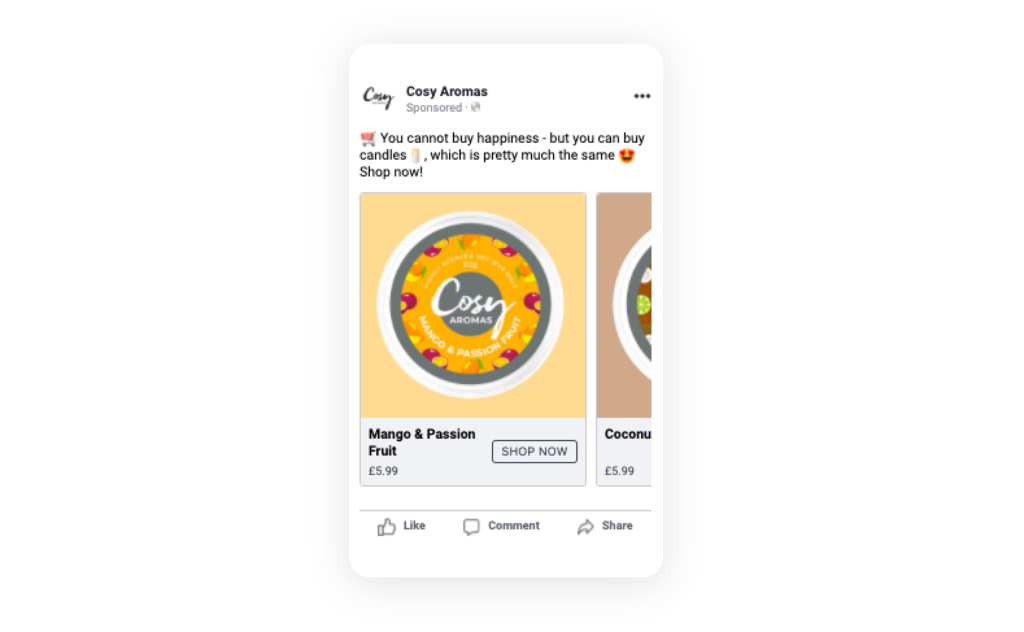 Dedicated Account manager
Since 2018, Cosy Aromas has been closely working with a Personal Account manager provided by Adwisely. Throughout this time, the dedicated manager has been:
ensuring the best performance of the Adwisely-powered campaigns providing actionable tips;
setting up, running, and optimizing customized Retargeting, Prospecting, and Cross-Sell campaigns with custom creatives;
handling communication with Facebook, making sure the ads are up-to-date and the store complies with the rules of the ad platform.
Also, Paul worked with the same dedicated manager when he was launching Craft HQ, another online store. The Adwisely manager made sure that Paul's onboarding was smooth. He also helped set up and launch the first ads for the new store.
Results
These three years of Cosy Aromas and Adwisely partnership brought some impressive results. The average ROAS of the Adwisely-powered ads amounts to 439%. The total number of purchases the app has brought is 9357 with a total purchase value of £228, 412.
Only in the last three months, the store has managed to sell 1,313 items. This result was achieved with the following ad metrics:
Average Cost Per Mile (cost per thousand views): £12.67
Cost per Click: £2.81
Average Cost per Purchase: £5.14
ROAS: 528%
Purchase value: £35,611.93
Your turn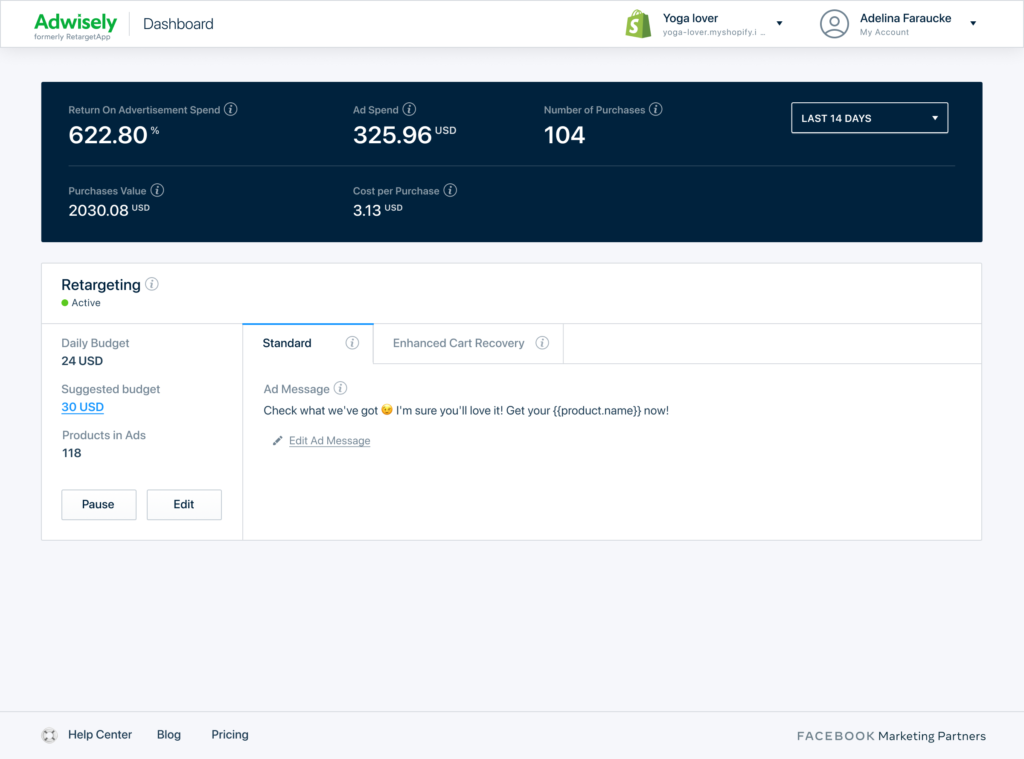 Are you ready to boost sales for your Shopify, WooCommerce, or BigCommerce store? Automate Facebook and Google ads with Adwisely. Install the app and create your ad campaign in under 10 minutes  — set the daily budget and review the ad text. The app will do the rest.
Begin your 14-day free trial to make sure that Adwisely is right for you.