All topics
Canadian jewelry designer teams up with Adwisely to make her brand sparkle & shine
Adwisely makes online advertising easy and efficient. What's more important, however, is that it lets online stores save time and grow their sales – especially during the holiday season – by fully automating online ads on Facebook, Instagram, Messenger, and Google ads for them. We are proud to have helped thousands of online businesses and would like to share some of their stories.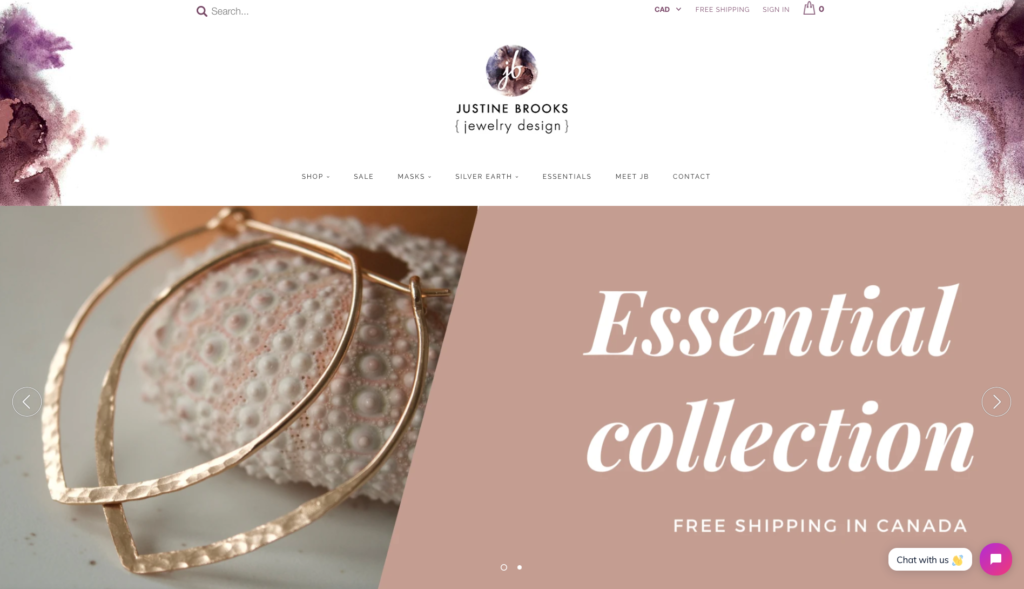 Justine Brooks Jewelry Design

Justine Brooks is a Canadian entrepreneur who mastered the art of jewelry design and converted it into a business. It all started in 2005 when Justine embarked on a trip to India to learn traditional techniques for designing jewelry. Then the journey took her to the Middle East, East Africa, and Asia.
On Justine Brooks Jewelry Design website, you can see that the skill is the key element that sets her business apart from the competition. Justine's unique vision and masterful designs helped her attract fans on Facebook and Instagram with 17, 500 and nearly 8, 500 followers respectively. Also, her products were featured in such magazines as Cosmopolitan, Pique, Western Living among others.
Challenge
As a self-made business person who was in charge of both creating handmade jewelry and growing her businesses, Justine was battling a chronic shortage of time. The entrepreneur simply couldn't fit creating and managing digital ads into her tight schedule. At the same time, neither hiring a full-time digital marketer nor paying for the advertising agency would be sustainable for her business.
On the other hand, Justine knew that to keep scaling up she needed more people to learn about her brand. Also, she understood that it would make no sense to run online ads that bring people to her store only to see them leave empty-handed. She needed an efficient way of building a relationship with her potential customers.


Adwisely isn't just a blog—we're a team of experts who can run efficient ads for your online store
Level up your ads
Solution
After carefully studying the options Justine had, she decided to run ads for her store with Adwisely. The designer realized that this time-saving yet cost-effective solution for Retargeting and Prospecting ads on Facebook would help her increase sales and build her brand.
Retargeting
One of Justine's main priorities was not to lose touch with the people who visited her website. In order not to drop the ball, the entrepreneur ran Retargeting ads on Facebook and Instagram. These campaigns target people who have visited the website (including those who added the product to the cart) but didn't complete the checkout. The Justine Brooks Jewelry Design Retargeting ads are shown to a person until they make a purchase, but not longer than for 2 weeks.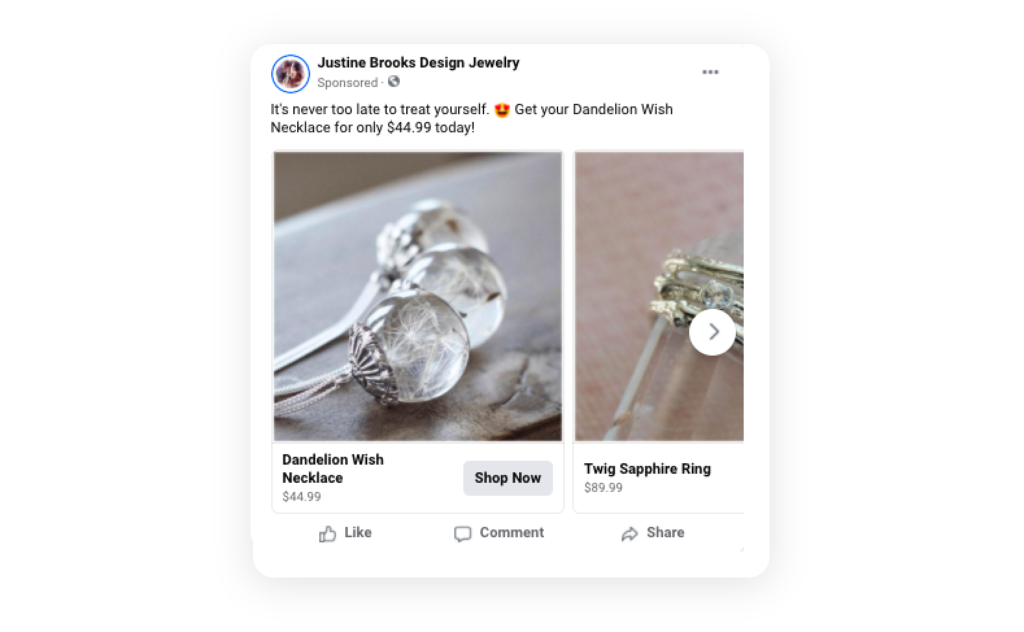 Prospecting
Reaching out to new customers was just as important to grow the business. To let more potential customers find out about the Justine Brooks Jewelry Design store, the business owner decided to also run Prospecting campaigns with Adwisely. These ads are shown to the Lookalike audience — people that are similar to the existing customers or those who added the product to the cart.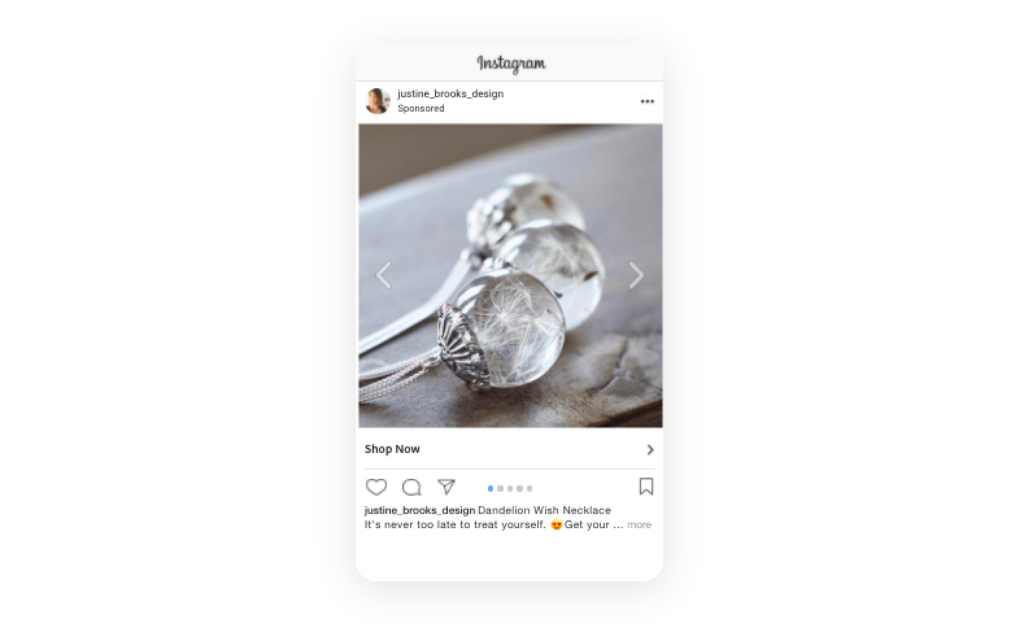 Dedicated ads manager
Also, Justine started to work with the Adwisely's dedicated ads manager to unlock the full potential of her campaigns. The personal manager is in charge of:
monitoring Adwisely-powered ads to make sure they are delivered smoothly and perform to the fullest;
making sure Justine receives important updates from Facebook and knows what to do about them;
providing actionable tips on how to update the campaigns to improve their performance.
Justine knows that whenever she has a question or a doubt about her advertising, she can always reach out to her dedicated manager who gives an answer relevant specifically to her business.
Results
It's been only a year since Justine started running ads with Adwisely, but she has been consistently receiving great results. The ROAS of Adwisely-powered ads for Retargeting and Prospecting amounts to 766% and 789% respectively.
Some of the metrics of Justine Brooks Jewelry Design ads in the last three months are:
Number of purchases: 358
Average Cost per thousand ad views (CPM): $12.33
Cost per Click: $0.59
Average Cost per Purchase: $10.16

Your turn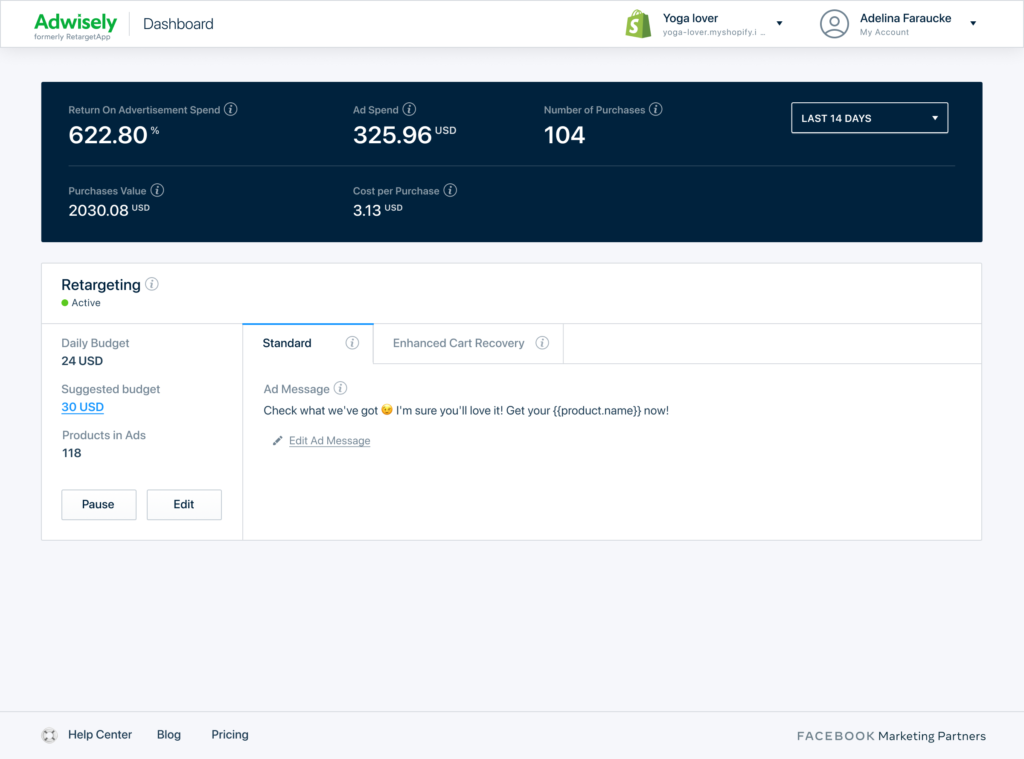 Are you ready to boost sales for your Shopify, WooCommerce, or BigCommerce store? Automate Facebook and Google ads with Adwisely. Install the app and create your ad campaign in under 10 minutes  — set the daily budget and review the ad text. The app will do the rest.
Begin your 14-day free trial to make sure that Adwisely is right for you.