You may not know what Facebook carousel ads are, but you surely have seen them. Remember ads with several images and videos? That's them. This ad format is pretty popular among eCommerce entrepreneurs as it enables them to display numerous products in one ad. Also, such ads motivate people to engage with them by scrolling through the carousel and viewing all images and videos.
In this post, you will learn about the efficiency of such ads, the optimal size for Facebook carousel ads, how to create them, and how expensive they are.
Do Facebook carousel ads work?
Let's begin with why using Facebook carousel ad format is a good idea. Advertisers and business owners run carousel ads to:
Present a product: this ad format allows you to better showcase your product focusing on one feature in each card.
Display various products: not only can you feature different products, but also you can link each card to a different landing page.
Guide: explain a process by walking people through every step in the cards.
Tell a story: invite users to read customer testimonials, the history of your brand, or the results of your social initiatives.
This case study may help better understand the efficiency of carousel ads. Carp Global used Adwisely to run carousel ads together with other formats to promote their giveaway and received remarkable results: ROAS over 2400% and cost per purchase twice as low as in other campaigns.
What does a Facebook carousel ad look like?
Carousel ads can contain up to 10 cards with images and videos on Facebook and Instagram Feeds. Here are some Facebook carousel ad examples: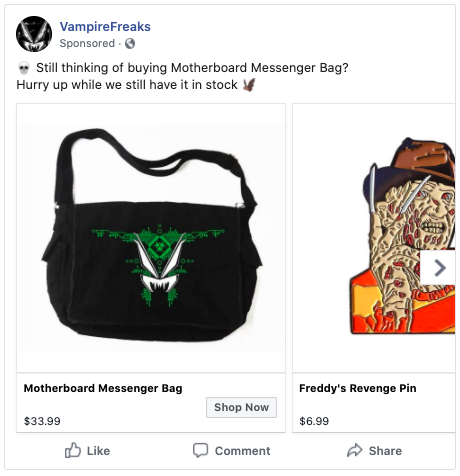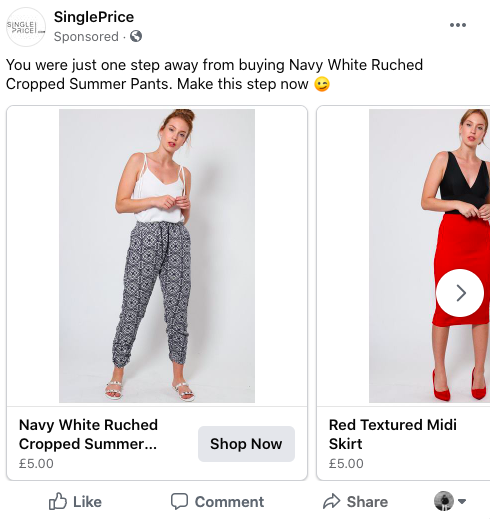 Facebook carousel ad specs
Facebook provides the following guidelines for creating carousel ads for the Feed:
Image File Type: JPG or PNG.
Video File Type: MP4, MOV or GIF.
Ratio: 1:1.
Resolution: At least 1080 x 1080 pixels.
Number of Carousel Cards: 2 to 10.
Facebook carousel ads size:

Image: maximum 30MB.
Video: maximum 4GB, duration from 1 second to 240 minutes.
As for the character limit for Facebook carousel ads, follow these recommendations:
Primary Text: 125 characters.
Headline: 40 characters.
Description: 20 characters.
To see the recommended Facebook carousel ad dimensions for all the placements, visit the Facebook Ads guide.
How do I create a Facebook carousel ad?
There are two ways to set up carousel ads: from the Ads Manager and your Facebook Page.
How to make a Facebook carousel ad in Ads Manager?
Go to the Ads Manager page.
Click on the + Create button.
In the new window, choose the Campaign Objective. Pay attention that you can't use Engagement and Video Views for carousel ads.
You may name your campaign, ad set, and ad at this stage, too. Then click Continue.
Next, set up your campaign's Special Ad Categories (if any), A/B Test, Budget optimization (if needed). Then click Next at the bottom right.
The next tab lets you set up your Ad set: Budget & Schedule, Audience, and Placements. Once you're ready, click Next.
In the last window, you will be able to set your ad and upload the creative for Facebook carousel ads. In the Identity field, choose your Facebook Page and Instagram Account. Then in the Ad Setup section choose Carousel.
In the Ad Creative complete the fields for your carousel cards.
Then scroll down to Tracking to set up Events and add a URL Parameter. Once you're done, double-check your ad and hit Publish at the right bottom.
To search and organize visual content for Facebook carousel ads, you can use Dash.
How to make a Facebook carousel ad from your Page?
Go to your Facebook Page.
Click the Promote button that is to the left from the tabs on your Page.
Choose the Goal of the promotions.
On the next page, right under the Description field, you will be able to select up to 5 images or videos for your ad.
Next, set up the Button, Audience, Duration, and Budget. Once everything is ready, click Promote Now.
Keep in mind these Facebook carousel ads best practices when setting up your campaign:
Make sure that your videos and images are shot from the same angle or at least are similar to each other.
Include a separate link in each card to promote different products.
Reengage your website visitors with Retargeting to showcase different products to a warm audience.
How much do Facebook carousel ads cost?
The range of the cost of Facebook ads, in general, is from $0.50 to $2.00 per click across industries. However, the actual numbers will depend on the targeted audience, your objectives, placements, and competition.
Since there's no fixed cost of the Facebook carousel ads, you can spend as much as you're comfortable with. You can also choose how to pay for the whole campaign at once or for each result separately. For example, to establish the fixed overall ad spend, set up the campaign budget. If you want to pay per result, then adjust your bid strategy.