All topics
Success Story: 400% ROAS from Black Friday ads for a family-owned business like no other
Adwisely makes online advertising easy and efficient. What's more important, however, is that it lets online stores save time and grow their sales – especially during the holiday season – by fully automating online ads on Facebook, Instagram, Messenger, and Google ads for them. We are proud to have helped thousands of online businesses and would like to share some of their stories.
VampireFreaks

VampireFreaks is a US-based independent family-owned business. It has been offering great attire and accessories for representatives of different subcultures (gothic and steampunk among others) since — that's right — 1999. As a socially responsible business, VampireFreaks has gone far beyond being just a store — they are the creators of of one of the top gothic conventions on the East Coast — the Dark Side of the Con.
The problem
Jet VF, VampireFreaks founder, has a lot of tasks to handle — apart from the store and the convention, he constantly looks for new exciting products to offer, provides stellar customer support and hosts club events across New York, New Jersey, and Pennsylvania. To save time and improve the conversion rate at his online store, Jet was looking for a solution that would create and manage retargeting ads on Facebook — and wouldn't take up much of his time.


Adwisely isn't just a blog—we're a team of experts who can run efficient ads for your online store
Level up your ads
The solution
To optimize the ad launch and maintenance, VampireFreaks got the updated version of Adwisely on Shopify App Store. It all started with a Retargeting campaign powered by Adwisely in May 2018 — it took less than an hour to set the ad up as all the necessary ad assets were created by Adwisely.
The retargeting ad was minimalistic, but it had all the necessary features — an engaging ad message, a product that the user previously viewed on VampireFreaks store (the product was dynamically selected by Facebook based on user's previous behavior in the store) and a few other products on the carousel.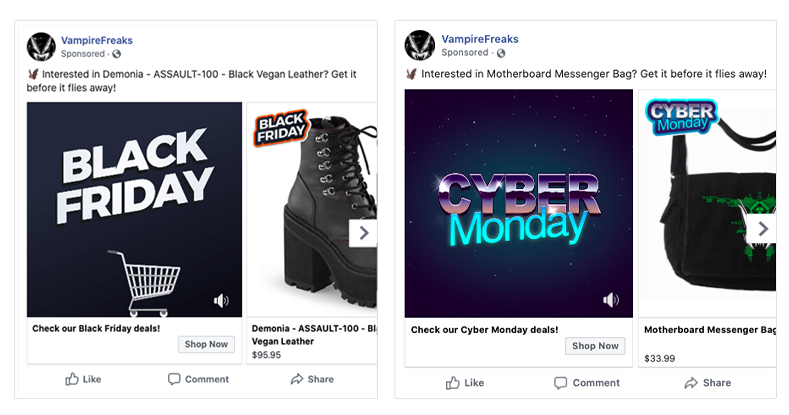 During the Black Friday and Cyber Monday sales, VampireFreaks also ran an Enhanced Cart Recovery campaign — a powerful addition to Standard Retargeting ads that focuses specifically on cart abandoners and has a special emphasis on the fear of missing out. The ads featured a thematic animated intro card and stickers over each product — this helped the ads stand out of the crowd during the busiest season of the year.
The results
Attire and accessories sold at VampireFreaks are truly unique — and Adwisely-powered ads helped remind thousands of store visitors about them. Retargeting and Prospecting campaigns powered be the app helped reach almost 500k potential customers. Due to the constantly optimized ad settings, the return on ad spend remains at steady average 400%, reaching 900% at peak sales seasons.
The ads got a lot of positive response, too — in total, they accumulated over 35k reactions, 500+ comments and almost 3k shares.
Your turn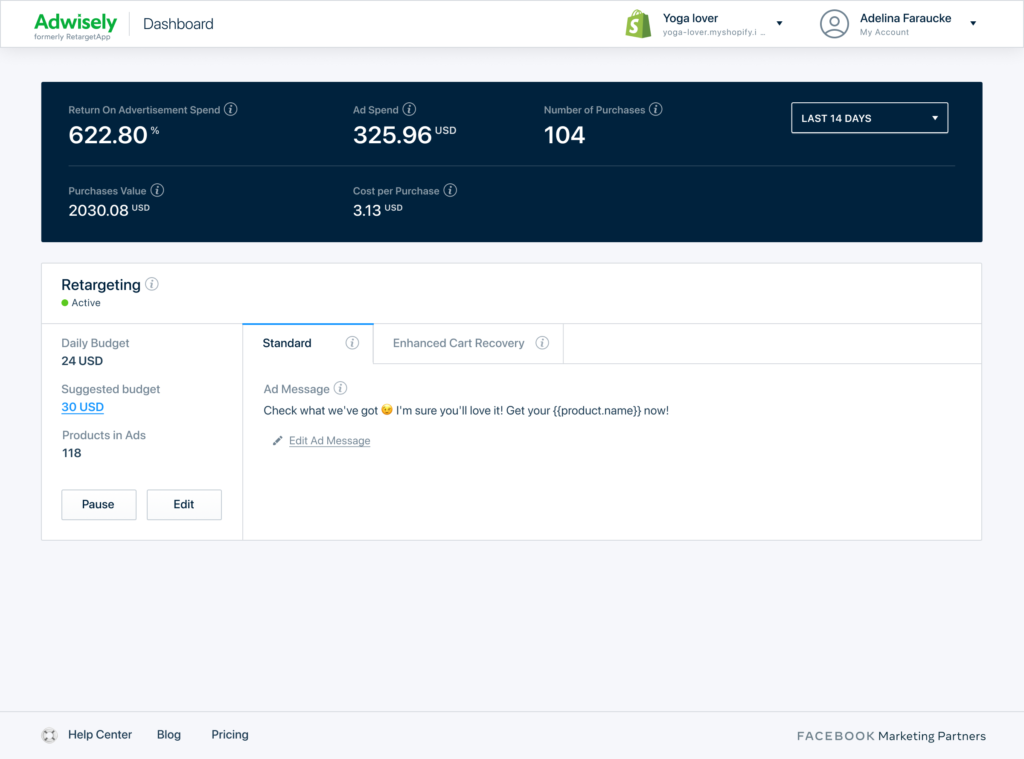 If you would like to run efficient automated Facebook ads and boost sales for your Shopify, WooCommerce or BigCommerce store – be it during Black Friday and Cyber Monday sales or every day – you should try Adwisely. The installation and setup process won't take you more than 10 minutes — you will only need to set the daily budget and review the ad text, the app will do the rest for you. To let you make sure if Adwisely is right for you, we offer a 14-day free trial 💚