All topics
Running online ads for BFCM 2023: When do I start and how can AI help me?
eCommerce stores often put up great hopes for Q4 sales. It is not surprising – last year Shopify alone has reported a record $7.5B in sales in just one Black Friday / Cyber Monday weekend.
A staggering 19% growth from 2021, this trend promises even more sales opportunities this high season. Starting from as early as Halloween and ending on New Year's eve, 2023 holiday sales season for online stores should be epic.
Starting ads for BFCM in November is too late
Growth in sales also means growth in competition – as October ends, online brands start fighting for their customers' attention harder than ever. An average consumer gets bombarded by millions of emails, text messages, push notifications, and, of course, hundreds of Google and Facebook ads.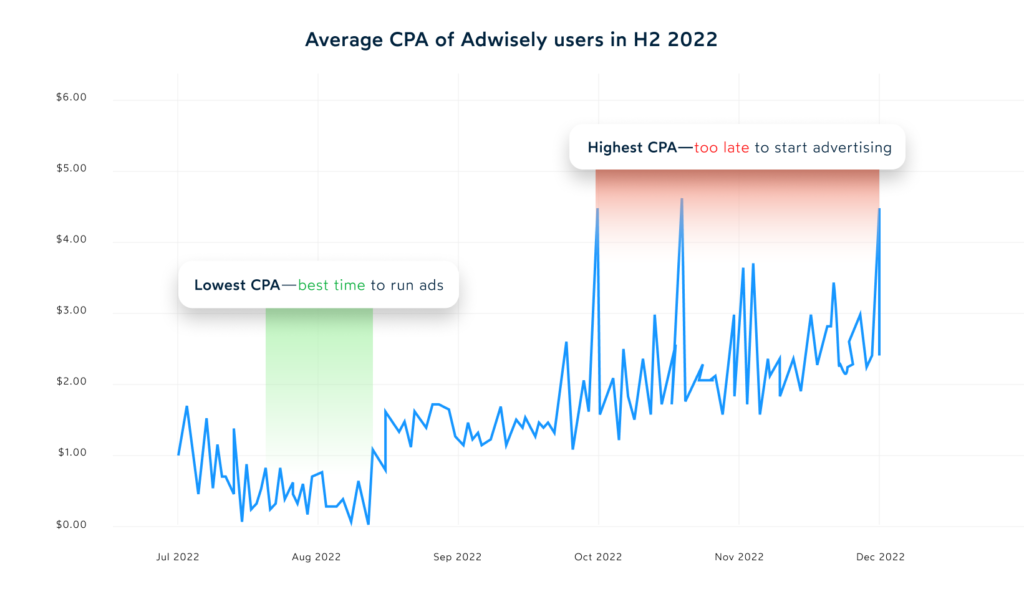 Some lose this fight without even starting it – if you try and create a brand new Facebook campaign well into sales season, then, due to high number of competing offers, you'll find it extremely hard for your ad to complete the learning phase – that is, get 30-50 conversions within a 14-day period. What's worse, you'll see that the CPA (cost per action) spike 2x-5x – or more – compared to the "low" season, while showing the ads to the same audience
If you are hoping for holiday sales at a reasonable ROAS, creating your Black Friday / Cyber Monday online ads in November is too late.
When you should get started with BFCM ads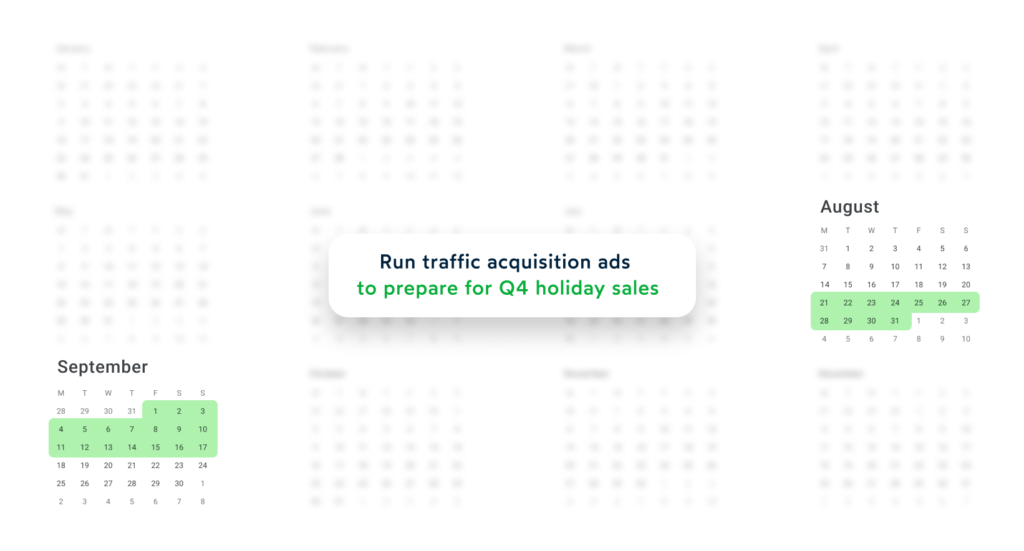 In late August and early September. Yes, you read that right – in order to have a highly efficient campaign bringing you sales at good ROAS in late November, you need to start running online ads on Facebook and Google now.
You can start nice and slow – at $10-$20 / day – and gradually increase the budget by ~20% every week to let your ads learn without breaking the bank.
These shouldn't be the ads containing BFCM offers yet – we are talking about a preparatory online ad strategy that lets you attract a brand new audience of potential customers for less money, make them more familiar with your brand, and, when the time comes, target and re-target them with your actual Halloween, Black Friday, Cyber Monday, Christmas, or New Year deals and earn more as a result.
There are a few good reasons to get started with your online advertising as early as 8 weeks before the sales start:
1. Dramatic difference in ad costs
Let's consider two scenarios. In the first one, you create and run your ad in August or early September. Your CPP (cost per purchase) is $20, and Facebook needs you to have at least 50 conversions to complete the learning phase. So, just to "teach" your ad, you'll need to invest ~$1,000.
Now, if you run the same ad in late October or early November, you'll see that the CPA has grown significantly, so you'll need to pay at least $2,000-$5,000 – not to scale your ad, not to maximize the profits but simply to have a viable sales channel.
2. (Un)fair advantage
As you may know, most ad platforms like Facebook, Google, or Microsoft work as an auction – for each ad spot, you compete with other advertisers and the highest bidder wins. Here's a question, though: if you, a newcomer, compete with someone who has been working with the ad platform for a long time, and offer the same bid?
You won't find a direct answer to this question anywhere, but in our experience those who have had a longer, more fruitful cooperation with the platform, get an advantage – and, if, you think about it, it makes a lot of sense as these businesses have:
a trusted brand proven by post-purchase reviews
a well-converting website proven by thousands of completed purchases
higher budgets because they have already tested what works and can safely scale ad spend
3. Need of the ad audience
As the holiday season comes, eCommerce advertisers pump a lot of money onto retargeting in hopes to reengage the "hot" leads. Some of them, however, forget one important thing – there should be people to retarget.
What this means is that well before the BFCM starts, you need to run a prospecting campaign reach out to brand new customers and tell them about your products. This way, when the actual sales come, you have a list of people to re-engage with your amazing offers.
So, two things are crystal clear:
you should start online advertising early – say, mid to late August – so that you get a steady sales flow before you try and scale it for the holidays;
the ads you run should be smart enough to beat competition – AI can help you with that.
Harnessing the power of AI to get ahead
Yes, AI isn't just about generating quirky images and getting puzzling responses from ChatGPT – machine learning technologies can actually help optimize your ad delivery. The AI analyzes purchasing behavior of millions of people, chooses those who are more likely to buy from you and this helps you drive your ROAS up with AI-powered ads.
The latest development in this field is Meta's Advantage+ Shopping campaign – a single campaign to efficiently connect relevant ads to new and existing shoppers. It lets you use a variety of ad creatives and target broad audiences to offer you more opportunities to reach people likely to purchase your products – a true breakthrough in eCommerce advertising, though it's not easy to set it up.
We at Adwisely saw a great potential in this ad tactic – so we have automated it for your convenience. Meet AI-Boosted Sales campaign 💚
AI-Boosted Sales campaign by Adwisely: What you need to know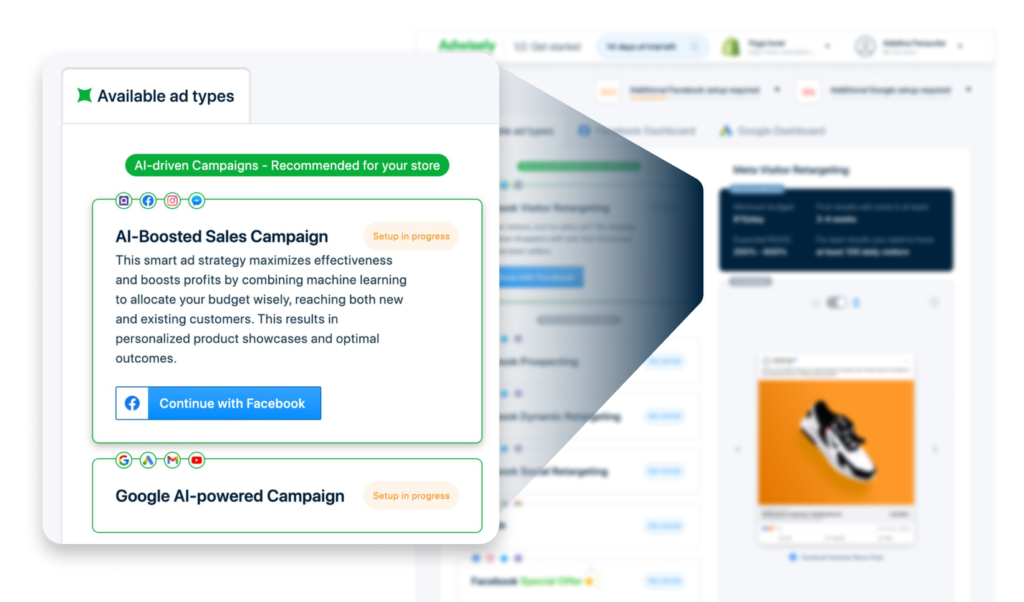 AI-Boosted Sales campaign is yet another powerful addition to your marketing strategy. With this campaign, you can promote your store products on Facebook, Instagram, Messenger and a network of trusted apps called Audience Network.
Like the name suggests, this campaign uses AI to help you distribute your ad budget smarter, reach both current and potential customers, do conversion optimization, and bring you more sales with an optimal return on ad spend.
AI-Boosted Sales campaign will work for you if:
you are based in the USA, the UK, Canada, or Australia – that's where the technology is available at the moment
have at least one country where you consistently have sales – you'll need to focus this campaign on 1-3 countries
got at least 100 sales – 300 would be perfect – within the past 30 days. It also works well if you had, say, 500+ sales within the past 180 days and just a few of them happened in the past 30 days.
It's highly recommended to run this campaign together with Dynamic Retargeting – more than a 100 of Adwisely users saw an 30% rise in ROAS from this combo of advertising tactics.
If you are eligible for this campaign and set a sufficent budget, you can expect the first results within the first 14 days.
Note: It's not the only campaign available on Adwisely that's enhanced with artificial intelligence – we also offer a Google AI-powered Campaign that helps you reach out up to to 90% of all Internet users around the world and works where Facebook-powered ads might not.
When run together, these two AI-boosted campaigns perfectly complement each other as they use different algorithms and various approaches to targeting. They also help each other convert your potential customers into paying ones.
Why AI-Boosted Sales campaign?
It's efficient

– thanks to the smart ad campaign optimization, the ROAS starts at 3x-6x in the first 2-4 weeks and can reach 10x after the first 30 days.

It's fully compatible

with any other campaign you many be running, be it Retargeting or Prospecting

It's affordable

– you can start at $15/day budget and gradually increase it if the ROAS for this type of inline store advertising meets your expectations

You get to try it first

– as it's new and only open for select advertisers, you can get amazing results before everyone else starts doing it
How do I prepare my store for the sales?
Setting up online ads is an important step, but even the best of the ads won't work properly if your store doesn't look appealing or take forever to load. Services like PageFly help you be properly prepared for the holiday season surge in store visitors – even if you have 0 knowledge of coding.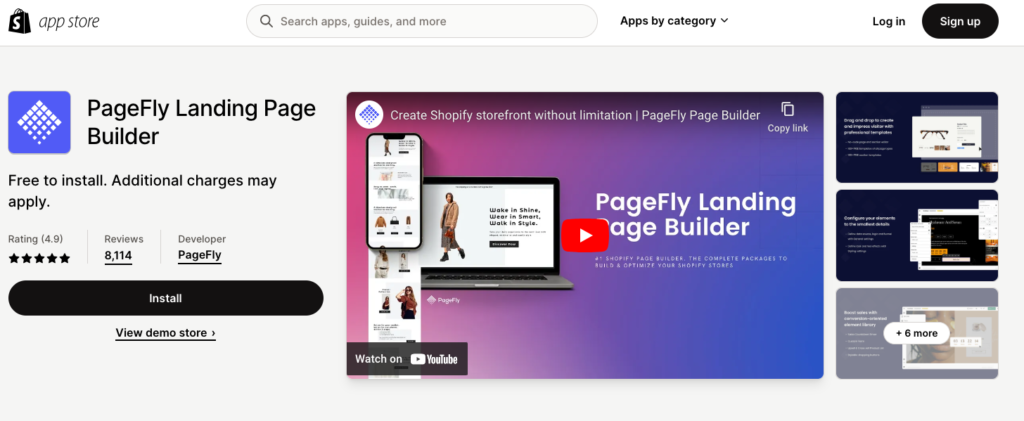 Trusted by 180,000+ merchants like you, PageFly brings you a complete package to build and optimize your store with just simple drag-and-drop. You can use their large library of ready-to-go templates and customize them to create clean, fast-loading pages that your customers will love.
To get a lifetime 20% discount on Pagefly services, you need to:
Install PageFly using this link
Find PageFly on your Shopify Dashboard and go to Preferences → Billing
Under Discount, click Apply coupon and enter ADWISELY20 coupon code
Click Check, then Apply
Approve Shopify charge on the next page – an existing charge (if any) will be cancelled – and enjoy a discounted monthly fee for lifetime
The offer is valid through September 30, so, just like with online ads, there's no time to lose.
How well do AI-boosted ads work?
Since we introduced AI-Boosted Sales campaign in July, this ad tactic has shown amazing results across different niches.
The Perfect Touch, a South African clothes and accessories store, hit 7.86x ROAS and saw 119 new sales for a total of $5,300+
"We have seen a significant increase in sales since we started working with the Adwisely team. The recommendations received are always spot on, and, although the cost seems a bit much, the return is always well worth it. We receive professional service and prompt replies from the team – especially from Paul and really enjoy working alongside him on our projects." noted the store owner during a recent chat.
A high-end clothes and accessories brand, GIANNOPOULOS, got €1,742.00 worth of sales at an outstanding 10.58x ROAS in just two weeks.
Love Millie Clothing, a store that offers high-quality clothes for little girls, used AI-boosted ads to get 226 additional sales worth a total of $18,053.59 – all with an outstanding 15.81x ROAS.
Another user, a home appliance store from Australia, enjoyed over $40,000 in sales after investing just $8,000 in ad spend over the course of four weeks.
"We couldn't have been happier – normally, summer is a "dead" season for us. These AI-powered ads are a true miracle." said the store founder and CEO.
All these awesome results have one simple recipe for success: starting early, adopting new technology and beating the competition.
You can use this recipe, too – go to Adwisely now to set up and run AI-Boosted Sales campaign on Facebook and Google before your competitors do it!