All topics
Google AI-powered campaign: Grow your business faster with the power of AI
Many e-commerce stores during their evolution face the problem that traffic alone is not a guarantee of sales. This experience can be quite painful, given the fact that you have to pay for it anyway (whether for SEO promotion or paid advertising).
The next step in store development is to find sources of not just traffic, but sales. "How to receive email reports not with the number of Impressions, Clicks, and average CTR, but emails with the number of sales and ROAS," is a very common question among ecommerce store owners.
Today we'd like to introduce the Google AI-powered campaign, which is the best answer for customers searching for sales. Another AI-powered campaign that operates on Meta surfaces (Meta AI-powered campaign), has already been introduced here.
W

hat is a Google AI-powered campaign?
As the name suggests, this campaign leverages Google's powerful AI algorithms, which are trained on over 150 billion web pages and process over 40,000 search queries per second. This data allows to predict user behavior and deliver your products to the people who are most likely to be interested in them. Unlike SEO or traditional advertising, this approach is driven by data, not assumptions.
The leverage of the latter in a Google AI-powered campaign brings fantastic results for Shopify stores. With its assistance, businesses can reach their desired audience and boost sales across Google Search, Shopping, YouTube, Gmail, and Google Display Network.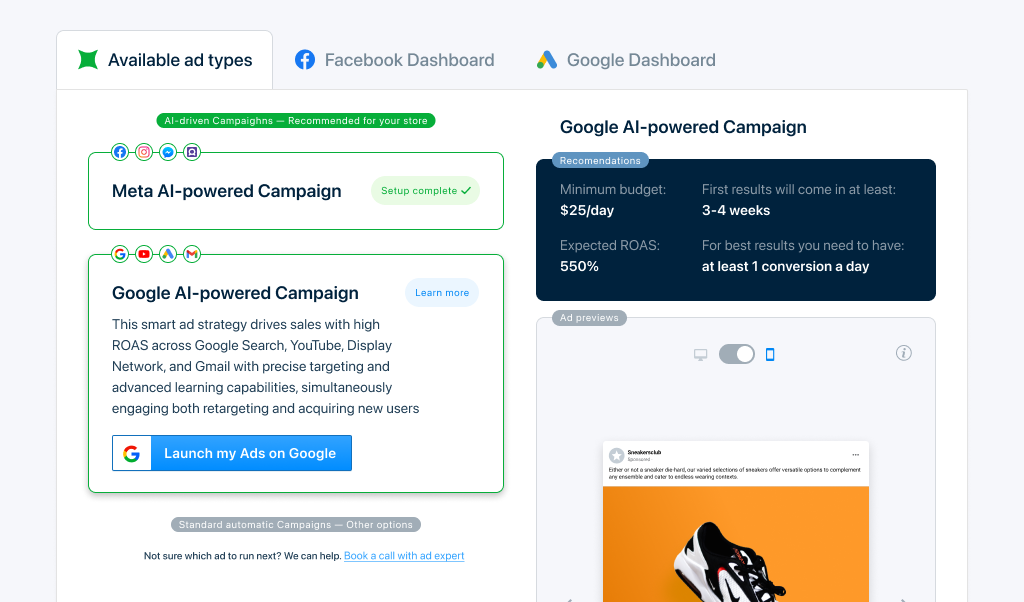 Why do I need it?
There are many benefits to using a Google AI-powered campaign, including:
High performance:

The ROAS typically begins at 1.5x to 2.7x in the first week and can ultimately reach 4x to 9x after the initial 30 days, depending on the initial starting point.

Accessibility:

 You can start at $15/day budget and gradually increase it if the ROAS meets your expectations

Broad reach:

This campaign can reach your potential customers almost everywhere on the internet, including Search, YouTube, Display, and Gmail.

Personalized product showcases:

It can show your products to people who are most likely to be interested in them, based on their browsing history and other factors.
What do I need to start 

Google AI-powered campaign

?
To launch Google AI-powered campaign with Adwisely, you need to have:
Adwisely app installed.
Shopify ecommerce store that is not in the trial period.
At least $15 per day to spend on your campaign.
At least 15 sales for the last 30 days. This is because the AI algorithm needs data to learn from. When initiating your Google Ads campaign with no prior sales in your Google Ads account, it may take a longer period to see results, typically extending to 2-3 weeks instead of the usual 5-10 days.

Why do I need to launch it with Adwisely?
In a nutshell, Google AI-powered campaign is a Performance Max campaign provided by Google. But Adwisely has developed a way to optimize it and make it even more effective for our clients. It's no longer a black box for us!
There are several reasons why you should launch your Google AI-powered campaign through Adwisely:
Better placement targeting:

 we use additional scripts to focus your budget on the placements that are most likely to drive sales for your business.

Efficient scaling:

while you can run this ad on your own, it takes time to know when and how to scale the campaign effectively.

Regular updates tracking:

this technology is regularly updated with new opportunities, and we will track them all.

Supervision by the Ad Expert:

even the best AI is currently unable to understand some business peculiarities. Therefore, strategic control over the trajectory of an advertising campaign remains in the hands of human expert. Moreover, mistakes can occur. With Adwisely, an Ad Expert will manage the campaign, knowing how to fix them
How well do Google AI-powered ads work?
Google AI-powered campaigns have proven to be highly effective in boosting sales for ecommerce websites. For instance, one of our Adwisely clients who transitioned from a conventional Shopping campaign to a Google AI-powered campaign witnessed a remarkable 30% increase in sales, all while keeping the cost per conversion at the same level.
"…I was looking for a way to improve my results. I transitioned to this campaign … definitely recommend it to other businesses."
Another client, who had not used Google at all before, after launching Google AI-powered ads, received a result of 30 sales within a week with a ROAS of 840%.
"I had never used Google ads before, but I was really impressed with the results I got from the Google AI-powered ads. I received 30 sales within a week, with an ROAS of 840%. Great job!"
In general, the average ROAS for current customers is 575%.
Conclusion
Google AI-powered campaigns are a powerful tool that can help Shopify stores to achieve their business goals. If you're ready to take your ecommerce business to the next level, install the Adwisely app and launch Google AI-powered campaigns.