All topics
How You Can Use Retargeting On Google and Paid Social Media
About 95% of users leave an online store without buying anything. The reasons are different: they need more time to make a decision, want to see the offers of competitors, get distracted from buying, and so on. However, some of them can be brought back and converted into customers using special type of ad – retargeting.
Retargeting refers to the targeted display of advertising to an audience that has already interacted with the site or other resources of the company. The main task of retargeting is to increase the number of conversions. Visitors who left without a purchase see an advertisement containing items from your store, which reminds them of the products they have viewed. As a result, some of them return and finally complete what they've started — making a purchase.
In addition, retargeting can be used to inform people about related products, new items, and promotions, as well as occasional brand reminders to increase awareness.
In this blog, we will give you all the detailed steps needed to launch a successful Facebook Retargeting Ads Campaign and Google Ads Retargeting.
What is Retargeting and how does it work?
The concept of targeting is simply advertising focused on the right audience; retargeting is different in that the work is carried out with an already "warm" audience, that is, only with customers interested in buying. The purpose of retargeting is to remind the customer about the product they are interested in with the help of advertising. Besides, it's cheaper to return an interested user than to attract new customers.
Retargeting is a broad concept, which is based on working with a specific audience segment using the following marketing tools:
Advertising banners on websites and social networks;
Automatic emails;
Automatic web push notifications;
Automatic push notifications through smartphone applications;
Text messages etc.
The most important condition for using these tools is that they should target the right audience.
In Meta (formerly Facebook), contextual advertising of this kind is called "retargeting", and Meta Pixel is used to track the audience. In Google Ads, it's called "remarketing". This is the same concept, but it uses different paid tools, so its name depends on the service chosen.
Pixel-based vs. list-based retargeting
The two most popular types of retargeting tracking tools are pixel-based and list-based retargeting. Here we'll look at their main differences.
Pixel-based retargeting is a way to show your content to any anonymous site visitor. List-based retargeting works after you already have your potential customers' contact information in your database.
Pixel-based retargeting is the most common type of retargeting. The essence of its work is that when someone visits your site, the pixel writes this information into a cookie file. When they leave your site to browse the web, this cookie notifies retargeting platforms to serve specific ads based on the exact pages they visited on your website.
List-based retargeting uses the audience lists of your existing contacts. To do this, upload a list of email addresses when setting up a retargeting campaign, and the platform will show ads only to them. List-based retargeting is smart to use if you already have an existing large customer base – otherwise, it's better to start with pixel-based retargeting.


Adwisely isn't just a blog—we're a team of experts who can run efficient ads for your online store
Level up your ads
Advantages of Retargeting
Retargeting ads have a higher engagement rate than a regular ad campaign. Why? It is easier to influence consumers who have previously shown interest in your products or services. Retargeting narrows down the audience to the most interested visitors who have not yet bought the product. Due to increased engagement and conversions, you get a higher rate of return for PPC (Pay-Per-Click) ads. Therefore, such a marketing strategy is cost-effective.
Retargeting is a great way to bring users back to your site and thus increase your revenue. One of the key advantages is the availability of many tools for interacting with the target audience. All social media, from LinkedIn retargeting ads to Facebook business manager, allow for the targeting ads of to their users.
Retargeting is also a good strategy to increase company awareness. By showing users the same content, logo, or slogan, you significantly increase brand awareness.
Retargeting has the following advantages:
Ability to create targeted remarketing lists;
Wide audience coverage of sites and mobile apps where the ads can be shown;
Easy ad creation with templates;
Easy reports on campaign performance with advertising platforms.
Minor disadvantages of retargeting include the possibility of annoying users by the ads, having ads ignored if the buyer has no intention to make a purchase, and a user getting a feeling of being under "surveillance" as an ad follows them.
How to get started with your first Retargeting campaign
Advertising is essential for any business. The decision to launch social media retargeting on Facebook, Instagram, or TikTok, or on a more professional network like LinkedIn, is undoubtedly the right one – however, the world's most popular search tool, Google, should not be ignored, either.
In the past month alone, the number of Google users hit 82.6 billion and Facebook hit 18.8 billion, according to SimilarWeb. Both of these platforms are synonymous with broad reach and are great places to launch your first marketing activities.
Let's take a closer look at how to launch your first Facebook and Google Ads retargeting.

How to set up Google Ads Retargeting
Here is the step-by-step instruction how to set up your first Retargeting Google Campaign
Step 1
Click on the tool icon in the Google Ads navigation bar, then click on "Audience manager"
Step 2
Select "Audience sources" on the left-hand menu:
Choose "Google Ads Tag" and click on "Set up Tag"
Step 3
To collect standard data, select the option "Only collect general website visit data to show ads to your website visitors". To customize the data collected depending on your industry, choose the second option. Then click "Save" to continue.
Step 4
Select the way to install the tag. There are three options to do that:
Install the tag yourself – copy the Google Ads retargeting script and paste it onto every page of your website between the <head></head> tags
Email the tag – email the code to a developer to add it to your store website.
Use Google Tag Manager – if you're already tracking other campaigns or using Google Analytics, use Google Tag Manager.
Run the plugin Google Tag Assistant on each page of your site to make sure that the tag is properly installed.
Congratulations! Your Google Ads Retargeting tool is installed!
How to set up your Facebook Retargeting Campaign
Before you set up retargeting, you need to install the Facebook tracking pixel on your site — a special code that will track conversions and analyze user actions.
To see how to install the Facebook Tracking Pixel on eCommerce platforms, read step-by-step instructions here:
How to install Pixel on the WooCommerce store
How to install Pixel on the BigCommerce store
How to install Pixel on Shopify store
Once you've installed the pixel, it's time to figure out how to measure conversions. On Facebook, this can be done in two ways:
Facebook Events give a signal that the user has taken an action, for example, by adding a product to the cart.
Customized Conversions are needed when it is important to track visits to a specific page, such as the "Thank You" page.
The next step in setting up Facebook retargeting is creating audiences.
To set up audiences, go to the Audiences section in Facebook Ads Manager.
Select one of the following audience types:
Custom audience – add a list of customer contacts, such as email, phone number, and address, who haven't bought anything in a while and remind them about your store, discounts, or promotions.
Lookalike audiences – create a custom audience and specify it as a source, then add an audience with similar behavior.
Core audiences – make an audience selection based on criteria such as age, interests, geography, and more.
Select a Campaign Objective:
The last step is to set up an advertising campaign budget, which we will describe in more detail below.
How Much Does a Retargeting Campaign Cost?
Retargeting Campaign cost on Facebook:
Facebook ads are auction-based. Advertisers create advertising campaigns, set a budget and a maximum bid, thus setting their bid in the auction. The highest bidder can win the auction and show that person their ad. As a result, there is no fixed price, but it is determined based on several factors:
Offer – how many users in the target audience;
Demand – how many advertisers want to show ads to this target audience;
The amount of money invested in advertising;
Quality of advertising.
An analysis of existing research shows that the cost of advertising on Facebook for most industries is between $0.50 and $2.00 per click. According to WordStream, the average PPC worldwide is $1.72.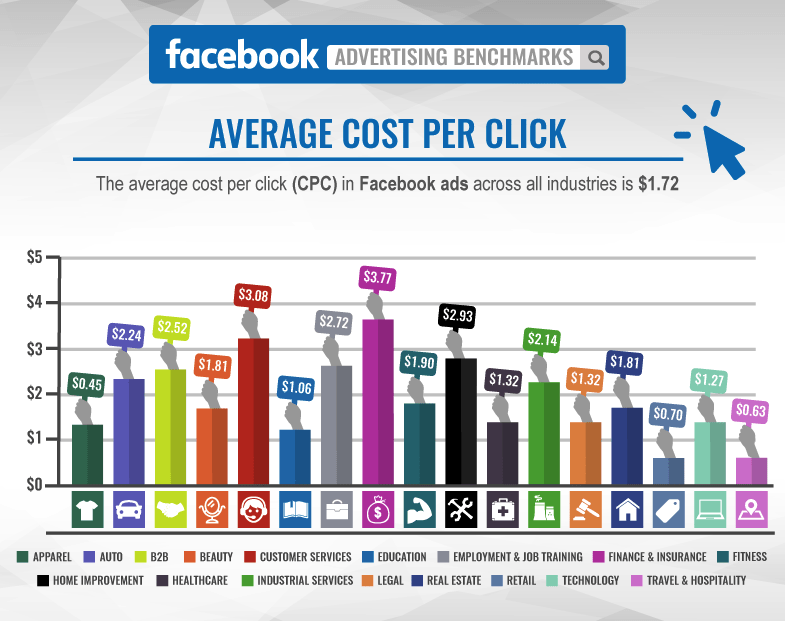 Remarketing Campaign cost on Google
In 2022, the average cost of a Google Ads click is between $1 and $2. For example, real estate, legal, or accounting companies can earn between $1,000 and $10,000 for each new client, so spending $40 per click on a Google ad is well worth the investment. Google Ads prices are very subjective and depend on the expected income you will receive from a new client. For industries where the rate of return per customer is lower, it may not be worth spending more than $1-2 on advertising.
Google Ads offers budget control features that allow you to adjust your cost every day. To help you decide on your Google Ads budget, you can use the Google Ads Cost Calculator.
With this tool, you can evaluate the number of sales per month, gross income per month, gross profit per month, ROI on advertising, and whether increasing your advertising spend will bring in more money or result in a loss.
Use Adwisely for retargeting that brings results
Retargeting is an effective form of advertising that helps to increase revenue and reduce the cost of building your brand awareness. Reminding customers about the product they are interested in with the help of mailing list advertisements and push notifications is now even easier with the Adwisely advertising tool.
Easily set up fully automated ads and track the ads and platforms that deliver the highest engagement to your target audience. By using Adwisely to automate ads you can reach over 1B internet users around the world and promote your products across Google Search, YouTube, Gmail, Facebook, Instagram, and more.