All topics
Facebook Retargeting for online stores: step-by-step guide and tips
Let's face it — people of the 21st century are forgetful. We are drowning in all sorts of information and sometimes make mistakes when trying to filter it out. That's why it's not surprising if someone forgets about an important meeting, has no idea why they walked into their kitchen or abandons a cart with a much-wanted item in your online store. Sure, we cannot improve the memory and focus of the whole humankind, however, what we can do is set up nice and friendly reminders about things that may matter — and that's what Facebook Retargeting is all about.
What are Retargeting ads?
In a nutshell, retargeting is a way of re-engaging your website visitors who were window-shopping or abandoned a cart in your store. It is done by showing them ads with the product(s) they were interested in, accompanied by some of those very special offers you have. Retargeting serves as a non-intrusive personalized reminder to those customers who are forgetful or easily distracted.
When considering a purchase, people may browse dozens of websites, so a small reminder like a retargeting ad can make them buy from you, not from your competitor. It may also be a decisive factor for the ones who had doubts about purchasing from you, not your competitors.
What are the benefits of Retargeting ads?
More sales. Since, on average, only 2 to 3% of all your store visitors (at best) make a purchase on their first visit to your store, you need a tool that will try and reach the remaining 97%. With Retargeting ads you can see a 200–500% increase in sales within the first 30 days.
More clients. While this seems similar to the previous point, Retargeting ads help you do much more than just make a single sale. According to recent research, 42% of all purchases made in online stores are repeat orders. Personalized Retargeting ads can be the first step in establishing a long-lasting relationship with each of your customers.
High ROAS. If you ever tried running online ads, you may know how expensive and inefficient they may seem sometimes. This will definitely not be the case with Retargeting ads — yes, they aren't free, but their relatively low cost — you can start at $5-$20/day — is nothing compared to the average 700–1000% return on advertising spend (ROAS).
Possibility of full automation. Running an online store takes up a lot of time and effort, so it's only logical to look for ways to save time and automate certain tasks. Retargeting ads can be easily automated — and still be efficient — with the help of an app like Adwisely.
Competitive advantage. Before making a decision about a purchase, an average Internet user browses at least 4 websites. Get ahead of your competitors and be the first one to reach out to your potential customers with personalized retargeting ads.
Which is the best placement to run Retargeting ads?
There are many ways to retarget your store visitors — emails, banners, display ads — so it may be hard to choose one. The easiest answer is: go for Facebook. Here are a few good reasons why you should consider these ads for your retargeting strategy:
Amazing reach. Facebook Retargeting ads don't just appear on Facebook. Through one ad cabinet, you can run a retargeting (sometime referred to as remarketing) campaign on Facebook, Instagram, and Messenger. These platforms has around 2B daily active users — and most likely has your potential clients. Even someone who abandoned a cart in your store isn't an active social media user, they can be retargeted in one of the apps across Audience Network.
Easy integration. Facebook is rather easy to get started with — there are . There's a good chance that there is already a custom-made Facebook Retargeting Ads solution that works with your platform. Adwisely, for instance, is available on Shopify, BigCommerce and WooCommerce.
Personalization opportunity. Facebook Retargeting Ads have come as close as it's possible to full personalization — and, consequently, to higher ad efficiency and significantly higher ROAS (return on ad spend). Rather than carpet-bombing everyone with the same exact product ad, Facebook Retargeting enables you to show each of your cart abandoners an ad with the very product they have previously viewed in your store.
Instant feedback. Unlike traditional forms of advertising, Facebook Retargeting ads help you see how happy (or unhappy) your customers are right away — the reactions they use, the comments they leave and the customer feedback they provide gives you a real-time opportunity to improve and grow — all this without hiring an analyst or ordering a costly market research.
Adwisely isn't just a blog—we're a team of experts who can run efficient ads for your online store
Level up your ads
How to get started with Facebook Retargeting ads
If you need to sell more — and, let's be honest, you always do, let's go through a short checklist to make sure that you are ready for Facebook Retargeting ads:
Fully functional online store. This may sound obvious, but some people actually make the mistake of inviting people to a house they forget to build. Before you run Facebook Retargeting ads — or any ads, for that matter, please, make sure that your store actually works. Click around, make sure that there are no redundant images or placeholder text. Pay special attention to how your cart and checkout work. If you offer free shipping, make sure it's actually free.
At least 3 products compliant with Facebook Advertising Policies. While the number of products is merely a recommendation — a carousel with many products looks more engaging that a single-image ad, the compliance with Facebook Ads Policies is a must for a successful Facebook Retargeting ad. There are many rules on what you can and can't promote, but the general guideline is easy — do not advertise anything that you wouldn't want your kids to see online. Oh, yeah — the product images need to be of good quality, too. But you wouldn't advertise your store with some low-resolution pixelated pictures anyway, right?
Facebook Ad Account. That's where you set up ads. You may not be aware of this, but you already have one if you have a Facebook profile. Once you test Facebook Retargeting ads and make sure that they are the right tool for you, it will be a good idea to create a Facebook Business Manager — an environment that will host all your ad-related assets.
Facebook business page. If you want to run Facebook Retargeting ads, your business should be properly represented on Facebook. Make sure that your Business Page features your store logo, links to the store and FAQ. It would be great if the page is liked by at least one person. Why? Well, because all the ads you run will be run on behalf of this page. You want your ads to be trustworthy, right?
Meta Pixel. Previously known as Facebook Pixel, this is a small piece of code installed on your store that does all the magic when it comes to Facebook ads. Essentially, it tracks your store visitors, remembers their behavior (such as products they viewed and added to cart), matches them with their Facebook profiles and then — you guessed it — makes sure each of them sees a personalized Facebook Retargeting ad with the product from your store that they will have no choice but buy. You know, because it's irresistible 🙂
Facebook Product catalog. While it's not necessary for other Facebook ads you may be running, the Product catalog is essential for Dynamic Retargeting Facebook Ads. It contains your product images and all the key info like names, URLs, prices, condition, availability and much more. It is very important to make sure that the product catalog is synched with the product range currently available in your store — ads that feature non-existent products tend to cause frustration. You can create a Product catalog manually or use one of the apps available for your ecommerce platform.
A budget plan for 2–3 months. The main goal of advertising is making sales, so, when you are planning your marketing budget, you should base it on your sales plan.
This, by the way, brings us to a very important thing worth noting: you should only go for Facebook Retargeting ads if their cost still allows for running a profitable business. If you expect to earn $20 on a product and the ad that helped you sell it cost you $25, something is going wrong.
Create a Facebook Retargeting ad — step-by-step guide
Step 1. Check the media requirements
Images should be in JPG or PNG format and be at least 1080px x 1080px in size. Note the images cannot feature more than 20% of text.
Videos should be in MOV or MP4 format, square, with at least 720p quality and, preferably, no captions.
A complete list of requirements and recommendations can be found here.
Step 2. Start creating a new campaign
Below are the steps you need to make to create a Facebook Retargeting ad from scratch using Guided Creation by Facebook. Note that this is the list of minimum required actions, so you are free to experiment with additional features and settings.
Go to your Ads Manager and make sure that you are inside the right Ad Account
Click on a green "Create" button
Under "Campaign", choose ad objective — you want to go "Catalog Sales" here — and click "Continue"
Step 3. Set up the products and audiences
Under "Products" leave "All products" for now — you can change it later.
Under "Audience" leave the selection at "Retarget ads to people who interacted with your products on and off Facebook.". While there, set the time period in which you want the ads to be shown. You can leave it at 14 days for now.
Leave the Placements at "Automated" — you can change it later.
Under "Budget and Schedule", set the daily budget. Start at lower figures, but be prepared to increase it later on.
Hit "Continue"
Step 4. Finish ad creation
Under "Ad creative", add Primary Text, Headline and News Feed Link Description. Use these tips if necessary
Paste the link to your store under "See more URL"
Check the Tracking info
Check out the Ad Preview in the right part of the screen. Make sure you are happy with the way your future ad looks.
Note: the products in the preview are randomly taken from your product catalog. The actual ads your customers see will feature the products they viewed.
Click the green "Confirm" button
The ad will now undergo review by Facebook and, once approved, it will go live. Yay!
What should you keep in mind when running a Facebook retargeting ad?
1. Optimize your ad
Creating a Facebook Retargeting ad is an important step on your way to success, but it's not the only one. Once you get started, you need to constantly monitor your ad performance and, if it happens to be unsatisfactory, make changes to the ad. As you grow your business, managing Facebook Retargeting ads may start taking up so much time that you'll need to hire a marketing manager or get an app like Adwisely that will fully automate Facebook retargeting ad creation and management for you.
2. Make sure that there are enough visitors on your website
Facebook Retargeting ads don't work without sufficient website traffic.
The logic behind this is simple: if no one visits your online store, there's no one to be reminded of your products. That's why you need to know the size of your website audience.
For this, on the Overview dashboard of your online store, go to Analytics and check the Online store sessions. If there are fewer than 100 online store visitors per day, you need to increase your website visitor count to run Facebook Retargeting ads.
Tips on how to increase website traffic:
Contact us to learn how Adwisely can help you with this by clicking a green circle in the bottom right corner!
3. Check if your daily budget is sufficient
A desire to save money is natural and logical. However, when it comes to Facebook Retargeting ads, spending less than needed will hurt your business. That's why you do need to know why and how to adjust the daily budget of your campaign.
Tips on adjusting the daily budget:
Review your daily budget every 7 days to see the results and understand if any adjustments are necessary.
4. See if your ad message is doing its job
Make sure that the ad messages you use in Facebook Retargeting ads don't ruin the impression of your online store. Poorly written ad text can significantly increase the cost of your ads. They can even get the ad disapproved by Facebook.
Tips on writing efficient ad messages:
Use these recommendations when coming up with an ad message
Keep your ad message short (up to 90 characters) and decent.
5. Double-check your website
You may sometimes get so caught up in looking for a perfect product that you never take time to go to your online store and see it as your customers would. As a result, you may have no idea that some buttons are disabled, images are not shown properly, etc — all this may severely hurt the performance of your Facebook Retargeting ads.
Tips on what to check:
Visit your own website at least once a week.
Make sure that product descriptions are up-to-date.
Look around, add products to cart, try and click through various shipping options.
If you see that at least one step of the purchase process is broken, investigate and fix it immediately. Disable Quick View Option and custom checkout pages if you see that they prevent the pixel event from firing properly. Uninstall apps that generate multiple annoying pop-ups. Make sure that you don't distract your customer from making a purchase.
6. Work on the customer feedback
Make sure that your customers are happy with your service and products. Facebook regularly analyses the reviews on your Facebook Page. Negative feedback drastically affects the campaign results: ads can cost you more, be shown less or even get disabled. If your customer feedback score is 1 out of 5 or less, you will not able to advertise using this Page anymore.
Tips on improving reviews from customers:
Be clear about your products: give accurate descriptions and ad creatives (e.g. pictures and videos).
Provide precise shipping information.
Make sure to meet costumers' demand and understand their needs.
Learn more about how customer feedback impacts your ability to run ads.
7. Don't be in your own way
Just like in any other business activity, in Facebook Retargeting ads there's an option of trying too hard and doing too much. Make sure that you don't have several retargeting campaigns (or use multiple retargeting apps) for one store running at the same time. If you do so, your ads will cost you more and deliver poorly.
What's next?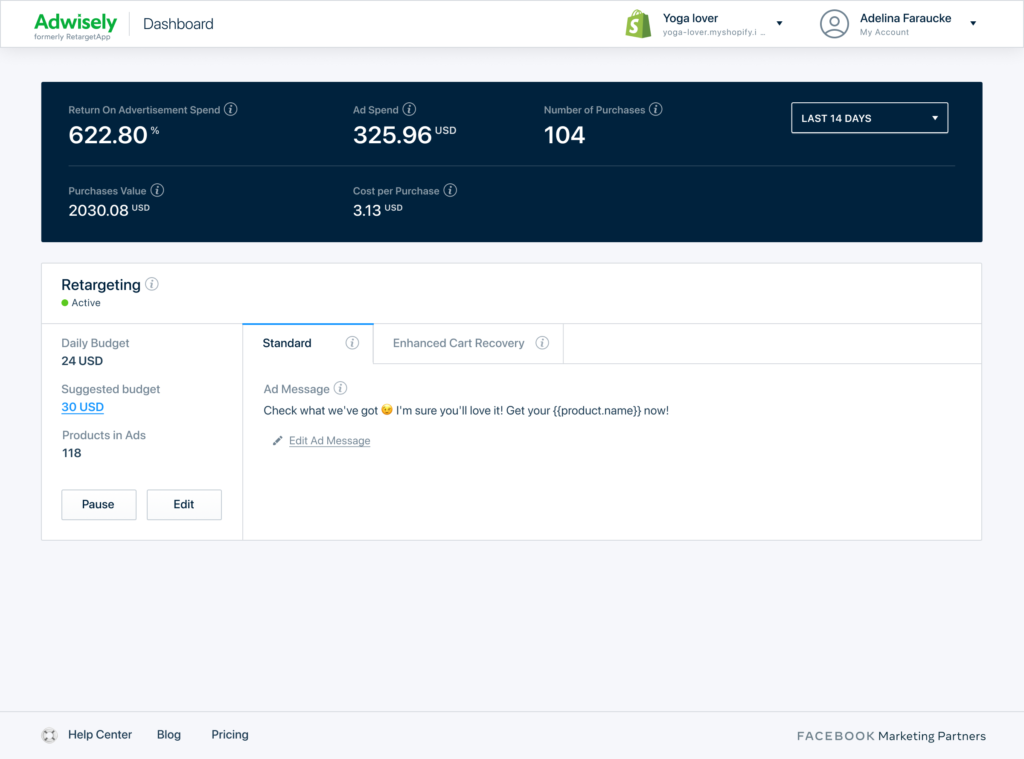 If you would like to run efficient automated Facebook Retargeting ads and boost sales for your Shopify, BigCommerce, or WooCommerce store, you should try Adwisely. The installation and setup process won't take you more than 10 minutes — you will only need to set the daily budget and review the ad text, the app will do the rest for you. To let you make sure if Adwisely is right for you, we offer a 14-day free trial 💚