All topics
Success Story: 600% ROAS for a modern-day herbalist
Adwisely makes online advertising easy and efficient. What's more important, however, is that it lets online stores save time and grow their sales by fully automating Facebook, Instagram, Messenger, and Google ads for them. We are proud to have helped thousands of online businesses and would like to share some of their stories.
Twenty First Century Herbs

Twenty First Century Herbs is a company that set out to make the all-natural herbal remedies an integral part of a modern lifestyle. Their store is powered by Shopify and offers a variety of supplements that can be shipped anywhere in the world. The team behind this UK-based brand takes their job seriously and goes the extra mile to ensure compliance with all local quality standards.
The problem
Like most online stores, Twenty First Century Herbs wanted to get new customers and recover abandoned carts — all while keeping the ad investments reasonable and getting a good return on ad spend. They were looking for a solution that would allow them to set up the ad and let it run on autopilot rather than spend 2–3 hours a day managing and optimizing their campaigns.
Adwisely isn't just a blog—we're a team of experts who can run efficient ads for your online store
Level up your ads
The solution
During their search for a fully automated online ads solution, Twenty First Century Herbs team got Adwisely from Shopify App Store. The first campaign they launched was regular Retargeting — a carousel ad with products dynamically selected from the store's product catalog based on store visitors' product view history. To make the ads more appealing, Adwisely included "Free Shipping" stickers to each of the products.
Based on the success of the initial campaign, we also offered them to run a Cross-Sell campaign that offered complementary supplements to those who already made a purchase from Twenty First Century Herbs. To incentivize the repeated purchases, the ad text featured a promo code made specifically for loyal customers.
The results
A combination of the 24/7 automated ad optimization and human expertise has proven to be successful. For almost 2 years now, Twenty First Century Herbs have been seeing a stable 6x ROAS (return on ad spend) on the ads that reached nearly 400K people around the world. Catchy ad creative presented in a variety of formats and placements ensures high CTR (click-through rate) — for instance, Cross-Sell ad has 3% CTR.
Apart from the obvious influence on sales, Adwisely-powered ads gather lots of positive reactions, thus improving the organic reach the store's posts get.
Your turn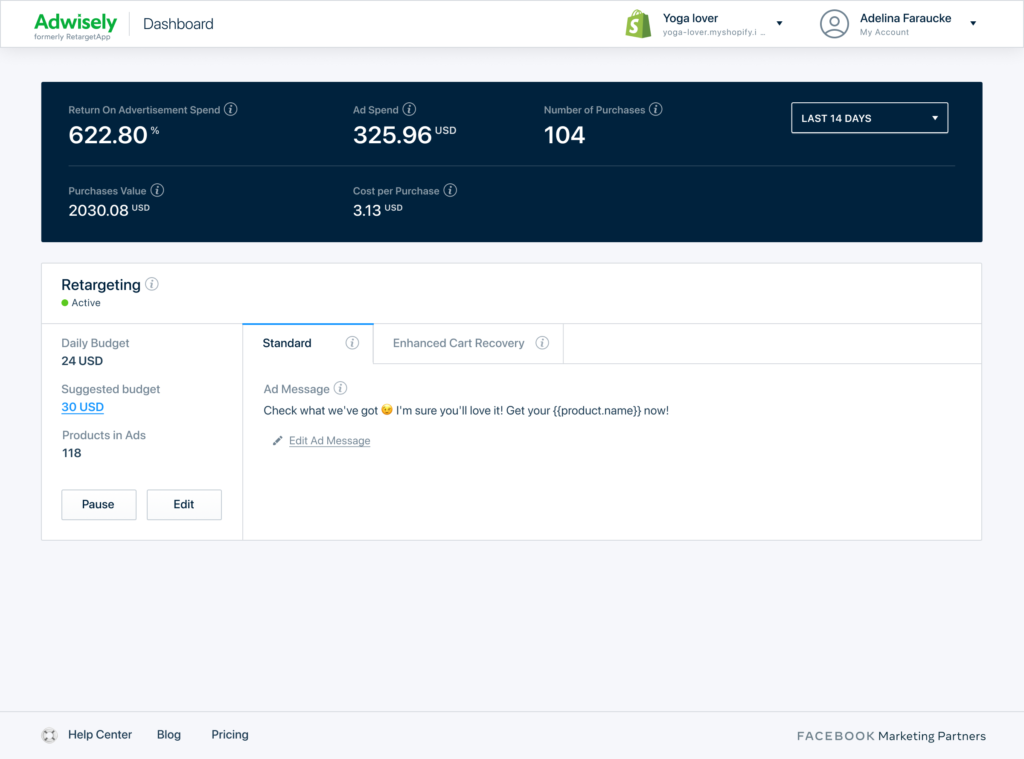 If you would like to run efficient automated Facebook ads and boost sales for your Shopify or BigCommerce store, you should try Adwisely. The installation and setup process won't take you more than 10 minutes — you will only need to set the daily budget and review the ad text, the app will do the rest for you. To let you make sure if Adwisely is right for you, we offer a 14-day free trial 💚