All topics
Google Remarketing for online stores: Step-by-step guide and tips
This article will give you a brief overview of what Google Remarketing ads are, why you need them and how you can create one. To launch Google Remarketing ads for your online store, you can either follow the guide below or get Adwisely and have it create all the necessary ads for you. Here's what this article will focus on:
What are Google Remarketing ads?
Types of Google Remarketing campaigns
What are the benefits of Google Remarketing ads?
How to get started with Google Remarketing ads
Create a Google Remarketing ad – a step-by-step guide
What should you keep in mind when running a Google Remarketing ad?
What are Google Remarketing ads?
Google Remarketing ads are a way to connect with people who previously interacted with your website or mobile app. It allows you to strategically position your ads in front of these audiences as they browse Google or its partner websites, thus helping you remind those audiences to make a purchase.
Types of Google Remarketing campaigns
If you are running an online store powered by Shopify, BigCommerce or WooCommerce, you can run one of these campaign types:
Standard Remarketing
Remarketing helps you reach people who have previously visited your website. Previous visitors or users can see your ads when they browse websites that are part of the Google Display Network, or when they search for terms related to your products or services on Google.
Dynamic Remarketing
Dynamic remarketing takes this a step further, letting you show previous visitors ads that contain products and services they viewed on your site. With messages tailored to your audience, dynamic remarketing helps you build leads and sales by bringing previous visitors back to your site to complete what they started.
The choice of the campaign type is up to you, however, we do recommend you to go for Dynamic Remarketing with the help of Smart Shopping campaigns. This campaign subtype combines Standard Shopping and display remarketing campaigns, and uses automated bidding and ad placement to promote your products and business across networks.
Where do Smart Shopping ads appear?
With this type of Google Remarketing ads, you will reach out to one of the biggest audiences on the Internet. Your products can appear on Google Search, Gmail, YouTube and network of partner websites called Display Network: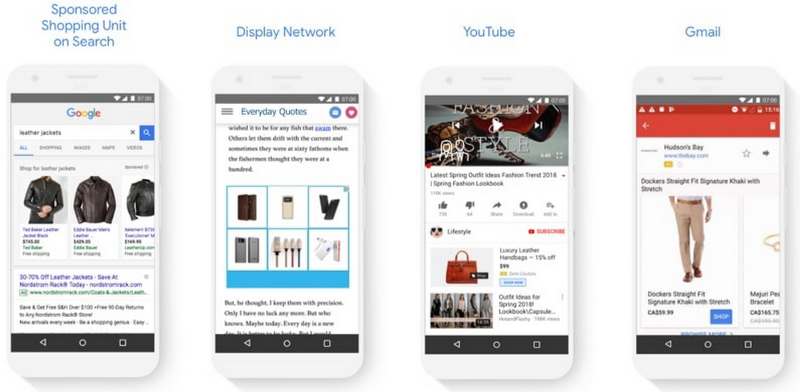 What are the benefits of Google Smart Shopping ads?
Google Smart Shopping ads owe their success to a large number of factors, such as:
Perfectly timed targeting. You can show Google Retargeting ads to people who have previously interacted with your business right when they are searching elsewhere and are more likely to make a purchase. You can also help customers find you by showing them your ads when they are actively looking for your business on Google Search.
Focused advertising. You can create Google Remarketing lists to advertise for specific cases. For example, you may create a remarketing list targeted for people who added something to their shopping cart but didn't complete a transaction.
Amazing reach. You can use Google Remarketing ads to reach people on your across their devices as they browse over 2 million websites and mobile apps.
Fair pricing. You can create high-performance Google Remarketing campaigns with automated bidding. Real-time bidding calculates the optimal bid for the person viewing your ad, helping you win the ad auction with the best possible price. There's no extra cost to use Google's auction.
Easy ad creation. Produce text, image, and video ads for free with Ad gallery. Combine a dynamic remarketing campaign with Ad gallery layouts to scale beautiful ads across all of your products or services.
Clear campaign stats. You'll have reports of how your Google Remarketing campaigns are performing, where your ads are showing, and what price you're paying. If you run Google Remarketing ads via Adwisely, you will see all the vital data on a convenient app dashboard.
Adwisely isn't just a blog—we're a team of experts who can run efficient ads for your online store
Level up your ads
How to get started with Google Smart Shopping ads
If you need to sell more – and, let's be honest, you always do, let's go through a short checklist to make sure that you are ready for Google Retargeting ads:
Fully functional online store. This may sound obvious, but some people actually make the mistake of inviting people to a house they forget to build. Before you run Google Retargeting ads – or any ads, for that matter, please, make sure that your store actually works. Click around, make sure that there are no redundant images or placeholder text. Pay special attention to how your cart and checkout work. If you offer free shipping, make sure it's actually free.
At least 3 products compliant with Google Advertising Policies While the number of products is merely a recommendation – a carousel with many products looks more engaging that a single-image ad, the compliance with Google Ads Policies is a must for a successful Google Remarketing ad. There are many rules on what you can and can't promote, but the general guideline is easy – do not advertise anything that you wouldn't want your kids to see online. Oh, yeah – the product images need to be of good quality, too. But you wouldn't advertise your store with some low-resolution pixelated pictures anyway, right?
Conversion tracking. Set up conversion tracking with transaction-specific values so you can track when your ads lead to sales on your website. You need an active, verified conversion tracking tag to set up a Smart Shopping campaign. Learn more about setting up conversion tracking for your website
At least 100 tracked store visitors. Add a global site tag to your website and have a remarketing list of at least 100 active users associated with your account. This will allow your ads to be used for dynamic remarketing, which lets you personalize ads for people who have visited your website before. If you use Google Analytics, you can link to your Google Analytics account and set up tags there instead of using the global site tag. You aren't required to tag any non-commercial pages of your site.
Google Ads Account. Set up and link your Google Ads and Merchant Center accounts.
Product Feed. Set up your product feed and ensure that you are able to send up-to-date product data at least every 30 days.
Knowledge of what's allowed and prohibited. Learn about Shopping ads policies. Note that you can't use sensitive interest categories to deliver relevant ads to people or to promote products or services. To learn more, read the Personalized advertising policy. You can also learn more about requirements for Shopping campaigns.
Time. With certain types of Google Remarketing ads, it may take up to 7 days for the ad assets like catalog to be reviewed.
How to create a Smart Shopping ad
Sign in to Google Ads.
In the page menu on the left, click Campaigns.
Click the plus button , then select New Campaign.
Select Sales as the goal for your campaign, or choose to create a campaign without a goal's guidance.
For "Campaign type," select Shopping.
Select the Merchant Center account that includes the products you'd like to advertise with this campaign and the country in which these products are sold.Note: Each campaign can only be linked to one Merchant Center account and can only have one country of sale.
For "Campaign subtype", select Smart Shopping campaign, then click Continue.
Create a name for your campaign.
Set an average daily budget. Note: When you set up a Smart Shopping campaign, it takes priority over other Standard Shopping and display remarketing campaigns for the same products. In order to retain your overall spend, it is recommended that you set a budget that is equal to the sum of those other campaigns.
Bidding. By default, Smart Shopping campaigns set bids that maximize the value of your conversions within your provided average daily budget.
If you have a specific performance goal, add a target return on ad spend (ROAS).
Choose specific products or groups of products that you'd like to advertise in your campaign. The more products you add to a single campaign, the simpler it is to manage and the better it is expected to perform. If you do not designate specific products or groups, all of your products will be eligible to appear in your ads. Note: Unless you have very different ROAS goals or budgets for specific products or groups of products, it is recommended to include all of your products in a single campaign.
Upload assets, such as a logo, image, and text, that will be used to create responsive remarketing ads for the Display Network and YouTube. Your assets will automatically be combined in various ways to create ads, and those with the highest performance will show more often. See the panel on the right for previews of how your ad might show.Upload the following assets for your ads: Note: These assets will be used to create ads to show to users who have visited your website, but have not yet expressed interest in a specific product. Once user interest has been indicated, relevant data will be pulled from your product feed to create an ad.

Logo: If your logo has already been uploaded to Merchant Center, no additional action is needed. Square logos need to have an aspect ratio of exactly 1:1. Rectangular logos need to be wider than 1:1, but must not be wider than 2:1. For all logos, a transparent background is best, but only if the logo is centered.
Image: Upload a marketing image that represents your business. Choose a landscape image with a ratio of 1.91:1 that is also greater than 600 x 314 pixels. The recommended size is 1200 x 628 pixels. The file size limit is 1MB. Text may cover no more than 20% of the image. Note: To fit in some ad spaces, your image may be cropped horizontally—up to 5% on each side.
Text: Add text that details your business. This text will be used in various combinations and ad formats.

The short headline (25 characters or fewer) is the first line of your ad, and appears in tight ad spaces where the long headline doesn't fit. Short headlines may appear with or without your description.
The long headline (90 characters or fewer) is the first line of your ad, and appears instead of your short headline in larger ads. Long headlines may appear with or without your description. The length of the long headline when rendered will depend on the site it appears on. If shortened, the long headline will end with ellipses.
The description (90 characters or fewer) adds to the headline and invites people to take action. The length of the rendered description will depend on the site it appears on. If shortened, the description will end with ellipses.

Final URL: Enter the URL address of the page in your website that people reach when they click your ad.

Preview some of your potential ads. Since responsive ads are built to reach across almost any ad space on the Display Network, they can show in thousands of layouts.
Click Save.
What should you keep in mind when running Google Remarketing Ads?
How you set up your Google Remarketing campaign depends on your business goals and the types of customers that you'd like to reach. To help you meet your goals, here are some tips and suggestions to keep in mind as you set up your Google Remarketing ads.
Target all your website visitors and app users
The most basic way to remarket is to reach an audience that has visited your website or used your app. The recommended approach is to use the "Google Ads optimized list," which help you reach website visitors, app users, and other audience sources.
Tailor your ads to your remarketing strategy
Your creative strategy is just as important as your remarketing list strategy. Here are some general recommendations for your Google Remarketing ads:
Relevant to the audience you'd like to reach
Same look and feel as your site
Compelling call-to-action
Broaden your location and language targeting
Since Google Remarketing ads can help you reach your ideal customers, you should be able to show them ads no matter where they are on the web. Your website visitors may be multi-lingual and may access your website from around the world, so make sure that in your campaign settings you select to target all languages.
When you choose your location targeting, keep in mind that you should be able serve customers in the regions you target.
Schedule Google Remarketing ads for when your visitors are likely to see them
Ad scheduling lets you specify certain hours or days of the week when you want your ads to show so that you can reach your customers while they're awake and online to see your ads.
Accelerate ad delivery so visitors see your ads sooner after coming to your site
Accelerated delivery tries to show your Google Remarketing ads more quickly until your budget is reached. With this option, you'll be able to reach people on your list and deliver your ads as soon as your customers are browsing the Display Network.