All topics
Facebook ads VS Google ads: which platform to choose?
Online ads can work miracles for your online store. Sure, running ads may seem complicated and time consuming. However, the sales potential they promise can easily compensate for all the effort. Of course, you want your business to be profitable, so every dollar of your investment in digital marketing should matter. This is why it is extremely important to pick the right platform – or platforms – for you to advertise your store on.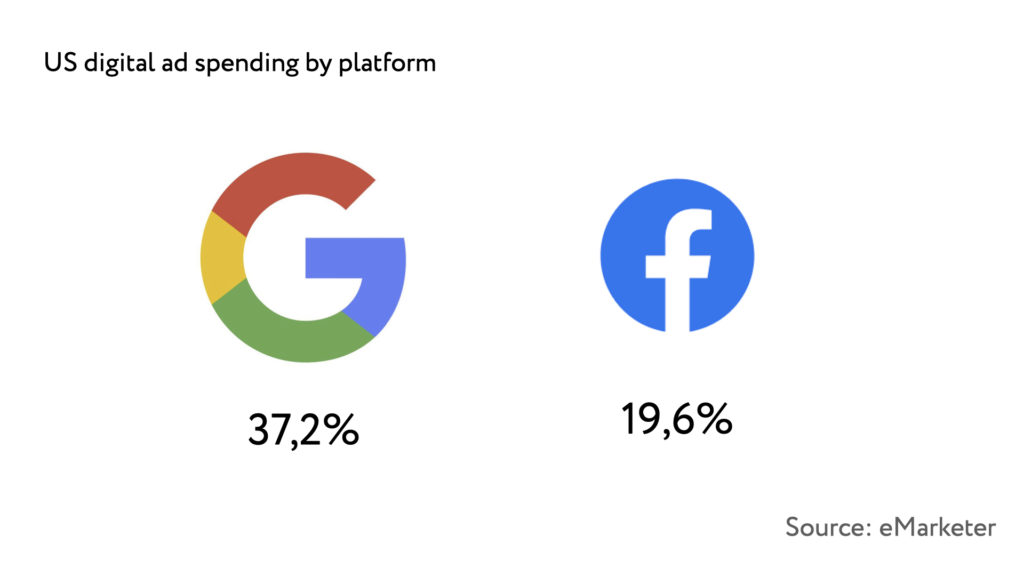 Today we will have a look at two biggest advertising platforms at the moment – Google and Facebook. We will compare them based on a number of parameters such as price, targeting options and potential returns – to make sure that you choose the platform that works best for your business needs.
Structure & Audience size

Google ads can be shown across a wide variety of placements, that, if combined, can let you cover up to 90% of all Internet users. Google placements can be divided into 2 large groups:
Google Search, which includes Sponsored search (also referred to as paid search) results and Shopping unit.
Google Display Network, which is, essentially, ad placement on variety of websites, including Gmail, YouTube, and mobile apps.

Facebook ad placements aracross many popular products, such as:
Facebook itself (desktop version and the mobile app).
Instagram (mobile app)
Messenger
Marketplace
Audience Network, which is very similar to Google Display Network, but focuses specifically on mobile apps
Rumor has it, soon we will also see WhatsApp ads, which is another exciting opportunity.

Available media options

Depending on the placements and formats you go for, Google ads can feature:
Text only
Text + Extension – these can have a link to location, call button, dynamically included price and even a lead form
Image or animation
Product – this includes a clickable product image, product name and price
Video – including native videos right from your YouTube channel
Rich media – playable demos and other forms of interactive content

Facebook is more visually-oriented platform, so there are no "text only" options. Here are the options available there:
Single image
Image Carousel – a scrollable collection or images that helps you tell a story
Slideshow – this is the closest you get to the video without actually making the video
Video
Stories and IGTV – essentially, those, too, are videos, but they have a number of peculiarities and are more natively included into a stream of similar videos.
Instant experience – a mini-landing page for a store right inside the Facebook app that can feature text, images, lead forms
Actually, both platforms deal with text, images and videos. Videos for Google ads are usually displayed on bigger screens, so you may want to put more effort into video production especially if brand awareness is your objective. Facebook ads work well with short videos that can be made with the help of the built-in toolkit.

Adwisely isn't just a blog—we're a team of experts who can run efficient ads for your online store
Level up your ads
Targeting options
Both platforms allow you to target based on more or less similar parameters:
Demographics like gender, age and location
Hobbies and interests
Life events like birthdays (on Facebook) or marriage (on Google)
Email addresses – on both platform, you can upload lists of your customers' emails. With Google, this feature can only be used upon reaching certain ad spend level.
Similarity to a customer list
Previous engagement with your online store, aka retargeting (on Facebook) or remarketing (on Google)

Google allows you to target people at the right time, i.e. when they are so interested in the purchase that they are actually searching for the item, doing a price check or comparing 2 offers.

Facebook allows for significantly more detailed demographics, hobbies and interests targeting as people are more inclined to share more personal info on the social media. Facebook also "knows" a bit more about users' shopping habits and can set priorities to show ads to people who are more likely to buy something.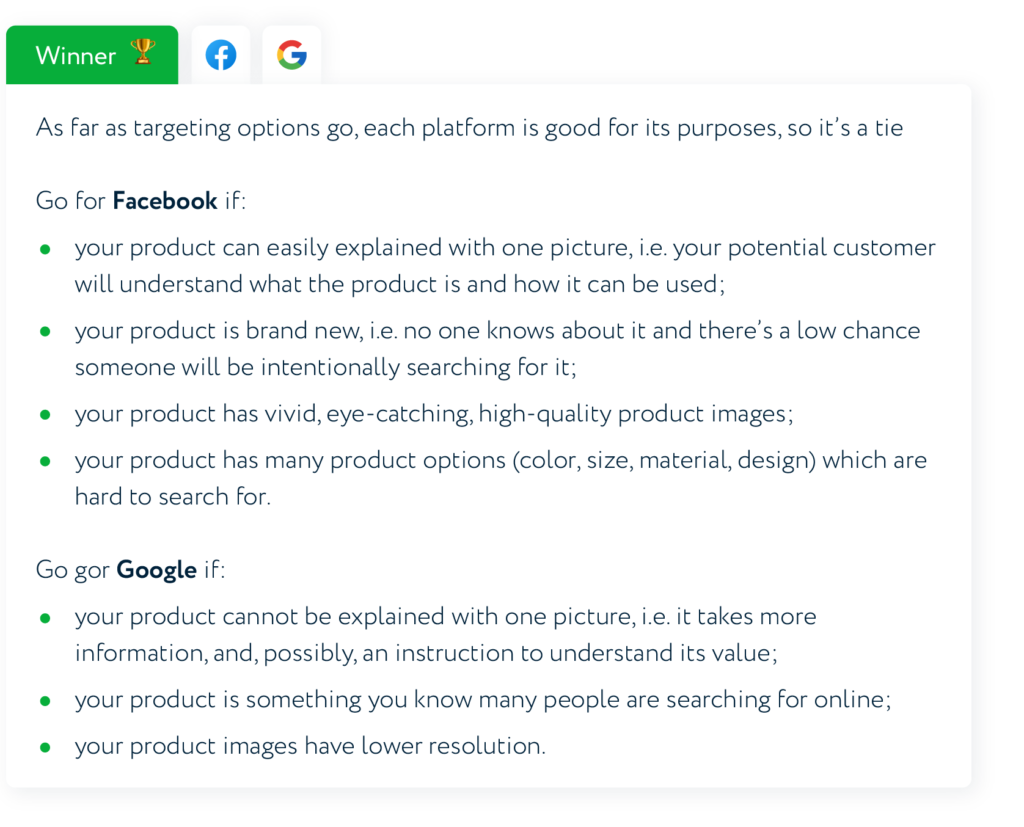 Estimated ad setup time
Both platforms do their best to make their ad cabinets as user-friendly as possible. However, having over 100 features inevitably leads to certain complications. To learn how to launch an ad that will actually work, you will need to spend:
at least a day on a research
half a day on proper tracking system setup
at least a day to come up with proper ad creatives.
You will need to spend even more time to test and actually get your ads to bring you decent return – especially if you are creating and optimising the ads without professional help.
To save time, you can either hire an ad expert or get an app like Adwisely that will do all the work for you.

Google ads normally take up to 24 hours to review, however, if you go for Smart Shopping ads – a Google campaign that requires a creation of a product catalog, you will need to wait for additional 7 days to get the catalog reviewed and approved

Once set up, Facebook ads are reviewed within 24 hours, and, if everything is set up well, go live immediately after that.

Products prohibited for promotion
Google and Facebook have many shared views on what should never appear in online ads. Neither will let you create ads for :
tobacco and related products
recreational drugs, weapons or explosives
counterfeit goods or abuse trademarks
medical grade face masks
'shady' financial services
threats / harassment / violence
adult content – unless your ads are about contraception.
Both platforms restrict the ads for alcohol to match the local governments' requirements.

Google has a separate list of restriction on ads for kids – this includes prohibition to promote certain video games and even crude jokes to anyone under 13.

Facebook products cannot be used by anyone under the age of 13, but their Advertising Policies still warn against specifically targeting minors on the ads.
It is also worth noting that both platforms also review the destination of your ad. If the website your ad leads to is not functional, contains malware, lacks quality content or cannot be easily closed, you are in trouble.
Now, we know you most likely won't try to sell anything we listed above. However, even in this case your ad may get disapproved – even naming your product "a grenade-shape mug" or "assault rifle t-shirt" would be enough for you not to pass the automatic review. In this case, you can fix the issue and request a manual review of your ad.

Estimated ad management time
This is rather subjective as the time you normally dedicate to ad management depends on your motivation, experience, business goals and the time you have available.
When you get started, you normally spend ~1 hour/day to review the ad insights available inside your ad cabinet, click through various reports, make conclusions based on analytics and optimize your ads based on these conclusions.
Ad management apps like Adwisely make it easier to review ad results and make changes to ads if necessary. With Adwisely, you won't need more that 5 minutes a day to manage successful ads on both Facebook and Google.

Estimated ad spend and returns
Both platforms, essentially, charge you for a number of actions of your potential customer. Depending on your ad settings, you can pay for clicks on the ad, product views in your store after the customer interacted with your ad, adds to cart or purchases. All these charges add up and you are either billed in the end of the month or once you reach a certain threshold. To control your ad spend, you can set a spending cap for daily, monthly or lifetime spending.
The cost of the action, as well as the overall ad efficiency, depends on how relevant your products are, how well your potential customers interact with them and on how much competition you've got. Google and Facebook work based on the principles of ad auction – this means that a few ads "compete" to appear in each web advertising spot, and the best, most relevant ad wins.
Recommended advertising budgets are very store-specific, so you will need to do proper planning and some experimenting here. General guideline here would be to stay reasonable. You need to think, how many products you would like to sell via ads and check if the average cost per action for your industry for Google and Facebook ads is acceptable for your business model.

Results
Let's tally up the results. Looks like it's a tie – each platform got 5 points.
What this means is that you shouldn't be choosing BETWEEN Facebook and Google – you should use the best of both worlds, so to say.
Develop a strategy for advertising online that lets you acquire new store visitors on Google and then educate and re-engage them on Facebook. Is your target audience young? Reach them on both Instagram and YouTube! Don't be afraid to experiment, and, what's even more necessary, don't let the success of your business be limited by one ad platform.
If you feel overwhelmed with the ad management and need time for other important business-related tasks, trust your ad to the experts at Adwisely. Adwisely will create and manage fully automated ads on Facebook and Google that will help you sell more. Try it today and enjoy a 14-day free trial!