If you are running Facebook ads for an online store, you want every cent of your ad budget to contribute to the sales growth. That is why it's important to reach out to the most relevant audiences and track every result your campaign drives. The Meta Pixel (previously known as Facebook Pixel or FB Pixel) helps with both. In this post, we talk about how to set up Meta Pixel and what it does.
What is Meta Pixel and how to create it?
eCommerce merchants and digital marketers use Meta Pixel to:
Make sure your ads are shown to the right people. Find new customers, or people who have visited a specific page or taken a desired action on your website.
Drive more sales. Set up automatic bidding to reach people who are more likely to take an action you care about, like making a purchase.
Measure the results of your ads. Better understand the impact of your ads by measuring what happens when people see them.
Meta Pixel definition
Meta Pixel is an analytical tool that allows you to track your website visitors activities. It is a piece of code that helps identify Facebook and Instagram users and see how they interacted with the content on your website (page views, product views, adding to cart, starting checkout, purchases, etc). This information can be used to target people with ads based on interests, preferences, and their behavior online. Also, it allows you to track your ad performance.
Some may find it confusing that a pixel — a teeny-tiny area on the display screen — is also used for online advertising. A tracking pixel is a 1x1 graphic that fires (is loaded) each time a person checks your website to send Facebook the information about who is visiting and what actions they are taking. All this data is encrypted and depersonalized, so only Facebook can see which users were visiting your website.
What is Meta Pixel used for?
According to the Facebook Business Help Center, the Pixel is used to make sure that the ads are shown to the right people, driving more sales, and measuring ad results.
With Meta Pixel, you can:
advertise your product to people that have already visited your website. This tactic is called Retargeting (a.k.a. Remarketing — you can find more about it in our Help Center;
target new customers that have common interests or characteristics with your actual customers — this tactic is known as Prospecting;
track the behavior of the people after they see or interact with your ad.
The use of Meta Pixel explained
So, let's check how to use Meta Pixel? The way it works is pretty straightforward: you need to install the Meta Pixel (add a special piece of code) onto your website. Once it is up and running, you can track certain actions (events) a person takes on your website.
There are 17 Facebook events you can track:
Purchase — a person has bought something from your online store;
Lead — a person signs up for a free a trial, submit their email, etc.;
Complete registration — a person has completed your registration form;
Add payment information — a person has filled in payment details on your online store;
Add to cart — a person has added a product to the cart on your online store;
Add to wishlist — a person adds a product to the wishlist;
Initiate checkout — a person has begun a checkout process;
Search — a person has used a search field on your website;
View content — a person has visited a certain page (for example, a product page);
Contact — a person has contacted your business;
Customize product — a person has requested a modified version of your product;
Donate — a person has donated to your initiative;
Find location — a person has searched for the address of your location;
Schedule — a person has scheduled a meeting;
Start trial — a person has begun a trial period;
Submit application — a person has submitted an application;
Subscribe — a person has subscribed to your product or service.
Please note that iOS 14 has affected how Mets Pixel is working on Apple mobile devices. Now you can optimize your campaigns for up to 8 events. You will need to select and prioritize them in the Events Manager. To learn more about how to optimize Meta Pixel for iOS 14, check this article on Adwisely Help Center.
How do I create a Pixel?
Now let's see how to get a Meta Pixel. First, you need to make sure that you can access a Business Manager account. It is important to verify that you are the admin. Also, you can create a new account.
Meta Pixel installation
Before you begin, you may need to create a Facebook Business Manager if you don't have one yet. The Business Manager is used to create and manage a number of assets for your Facebook and Instagram ads.
In your Business Manager, follow these steps to set up Meta Pixel:
Open Business Settings.
Choose your business.
Click on Data Sources.
Choose Pixels.
Click on the + Add button.
Write in the name for the Pixel to avoid possible confusion in the future.
Optional: enter the URL of your website (you can use only one Pixel for each verified domain name).
Click Continue.
Click Set up the Pixel Now to install the Meta Pixel.
How do I find my existing Meta Pixel?
Here's a good question: what do you do if you need to find the Meta Pixel that you already have? Take the following steps:
Open Business Settings in Business Manager.
Choose your business.
Click on Data Sources — here you will find the list of the website pixels that you have. You can search them by name or ID.
Does Meta Pixel work with Instagram?
The answer is YES since Facebook and Instagram ads are set up in Ads Manager. That is why adding Meta Pixel in the Business Manager is enough to run ads and track performance on Instagram, too.
What is a Meta Pixel ID?
The answer to what is a Meta Pixel ID is pretty simple — it is the identification number of your Pixel.
How to get Meta Pixel ID
To find Meta Pixel ID you need to:
Open Business Settings in Business Manager.
Choose your business.
Click on Data Sources and you will see your Pixels. Your Pixel ID is in parentheses right under the name.
Little help from Facebook Pixel Helper
Also, you can install The Facebook Pixel Helper extension for your Chrome browser to easily view the events on your Meta Pixels. You will be able to check the number of conversions in real-time. For more detailed information, expand a detailed report that offers an overview of the Pixels with warnings, errors, and successes.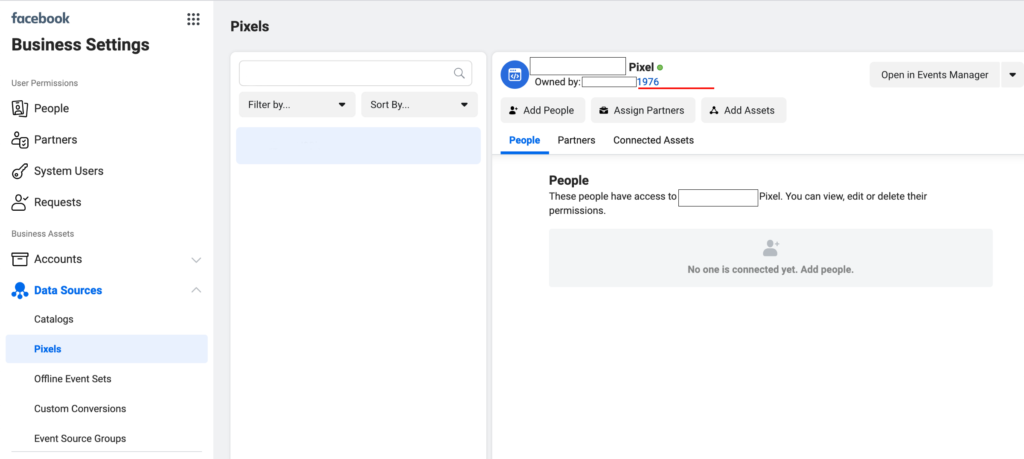 You don't have to be a marketing guru with a sky-high ad budgets to boost sales for your eCommerce store. Install Adwisely to set up ads on Facebook, Instagram, and Google in under 10 minutes. Get the app to automate your campaigns and enjoy 600% ROAS on average.