The life of an eCommerce store owner may be filled with lots of frustrations. You have put a lot of effort into finding the best products, set up a great online store with a neat and compelling theme, and invested lots of time and money into your marketing. However in the end most, people visit your website only to leave empty-handed.
Many online store owners would be devastated, but not you. As an s an experienced eCommerce marketer, you know that you don't say goodbye to website visitors. You just need to run retargeting ads on social media. Having 2.85 billion users, Facebook should the top priority.
In this post, we'll go through what retargeting ads are, take a look at the examples, and cover some Facebook retargeting ads best practices.
What is a retargeting ad?
The hard truth is that almost all your website visitors (97%) don't buy anything on their first visit. However, there are some pretty good chances that they will buy later — all it takes is just bring the people back to your website. This is why businesses use Facebook retargeting ads.
In the nutshell, retargeting ads target people that have viewed the products on your website or interacted with content on your website. To make the impact of the ads even more powerful, they feature items previously viewed by your potential customers.
Retargeting is an advertising tactic that works with businesses that already have a sufficient amount of website traffic. If you are a newly open store, you will need to first run some Traffic and Conversion campaigns before you create a Facebook retargeting ad.
Facebook retargeting ads work best for the following objectives:
Boost the sales of your most popular products even more. Since you will be promoting successful products to people that are already familiar with your brand, your ads should have a relatively higher return on ad spend.
Promoting new arrivals. It is a bit trickier to sell products that people are not very familiar with, but Facebook retargeting ads come of great help. They let you show people the items that they have already seen and introduce them to a new assortment in the same ad.
Sell-out low selling products. This one is a real pain in the neck of many online retailers — you have sold most of your items and are ready to move on and restock, but you still have products left that your customers are not crazy about. You can feature these products in your retargeting ads. To make sure that those items will sell, offer a discount.
How do Facebook retargeting ads work?
To set up Facebook retargeting ads, you first need to install Pixel. It is a piece of code with the help of which you can not only automatically track who visits your website, but also see the actions they take (events). Once you install Meta Pixel (previously known as Facebook Pixel), the retargeting becomes pure magic (with a tiny bit of automated advertising).
To better understand Facebook retargeting, let's check Jonny's buying experience. Johnny is looking for a pair of new sneakers. Luckily, your store has got just what he is looking for. He checks your website, browses through a couple of pairs, and finds the ones he loves. Naturally, he adds them to the cart…
Oh shoot, his cat Ravioli jumps on the table and knocks the vase over. What a mess! Johnny rushes to the kitchen to get the mop and some paper towels, and of course, completely forgets about the sneakers left in the cart.
However, Meta Pixel remembered that Johnny was checking your store. And the next time he checks his Facebook or Instagram, he sees your ad featuring the products he viewed together with a couple of similar ones. Happy that he doesn't have to go and look for the sneakers again, Johnny clicks on the ad and completes the check-out.
How do I create a Facebook retargeting ad?
As we've already mentioned, before you get to running Facebook retargeting ads, you need to have an installed Meta Pixel (here's how to do it) and website visitors.
Also, you need a Catalog to show your retargeted audiences the products they have viewed on your website (dynamic ads). If your store is on Shopify, BigCommerce, or WooCommerce, you can use the existing data feeds from Facebook integrations. Alternatively, you can create a Catalog by following these instructions.
Once you have the Pixel, the Catalog, and visitors, follow these steps to set up Facebook retargeting ads:
Go to Ads Manager to create an ad. Choose Catalog Sales as an objective. Right in the Campaign details, select the Catalog from the drop-down menu.

In the Audience section, select: Retarget ads to people who interacted with your products on and off Facebook.

Choose which category of people you want to retarget:
Viewed or Added to Cart But Not Purchased: target those who didn't proceed all the way through the purchase process after seeing an item and/or adding it to the cart.
Added to Cart But Not Purchased: target only those visitors who have products in their cart but haven't checked out.
Upsell Products: offer more expensive products to people who have viewed/purchased the products on your website
Cross-Sell Products: offer similar or related products to people who have viewed/purchased the products on your website
Custom Combination: offer items to the Custom Audience, selecting or excluding audiences depending on their interaction with your website. For example, you can target only those who added products to the cart and exclude those who completed the check-out within a certain period.
4. Specify the number of days whiting which the retargeted action took place.
5. Additionally, you can create Custom and Lookalike Audiences by clicking Show Advanced Options.
6. In the Ad Set section, you can optimize your Ad Creative by selecting Cover Media — the media you want the ad to display first in some versions of your ads. You can choose a Dynamic Video, Video, or Image.
7. After adding the Primary text and Description, add Deep links to your Website to connect a product in the add to the specific page on your website.
8. Lastly, choose Tracking to know which conversions resulted from your retargeting ad. Pay attention that events tracking has changed due to that under iOS 14. To learn more, check out our guide on iOS 14 for eCommerce store owners.
As for Facebook retargeting ads cost, it all depends on the industry, your competition, and the volume of your website traffic.
Facebook Retargeting Ads examples
Now that we have a better understanding of retargeting ads and how to create them, let's take a look at some of the best Facebook retargeting ads examples.
If set up your ad correctly, your users will see the ads with the products they have seen in your store and similar ones. Also, each product card will feature a button and a description unique for each product.
Just like in the example by Detroit Couture: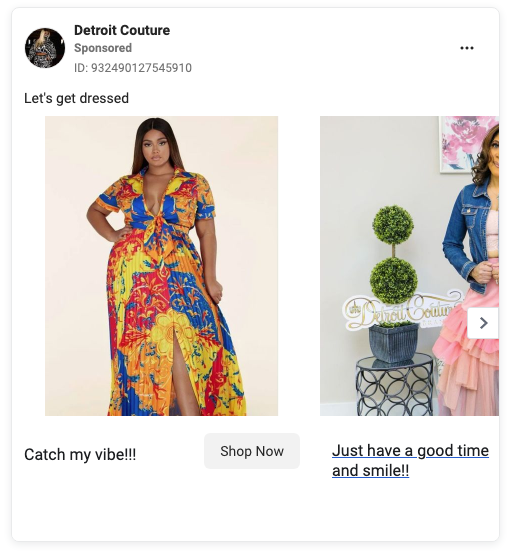 Also, to motivate people to finally make that purchase, you can include a discount or some incentive. Here's how Kindred Splendor store motivated their users to do so by offering 30% off.