In most cases, conversion is the ultimate goal of your marketing. At the end of the day, sales are what keeps your business running. However, it doesn't mean that all your marketing activities should be directed at selling. If hard sell always worked, no one would ever talk about the sales funnel. Yet, they do, all because usually customers are not ready to buy your product the first time they hear about it. That is why you and other marketing specialists focus on leads — people who potentially might be interested in your product. This is where Facebook Leads Ads come in.
In this post, we will talk about what Facebook lead ads are, how they work, and what to do to generate more leads.
What are Facebook Lead Ads?
According to Facebook, Lead Ads enable marketers to "generate new leads by providing value for people." In other words, they help businesses collect the contact details of potential customers.
What are Facebook Leads Ads used for? You can run Facebook leads ads to:
find out who can be your potential customer;
gather contact details for your newsletter base;
motivate people to download your promotional materials (catalogs, coupons, etc.);
better understand the interests and preferences of the potential customers.
To create Facebook Leads Ads, follow these steps, go to Ads Manager and start a campaign with a Lead generation objective. In the Ad set, create an Instant form where people will submit their detail.
This Facebook Lead Ad example should give you an idea about what your ad may look like: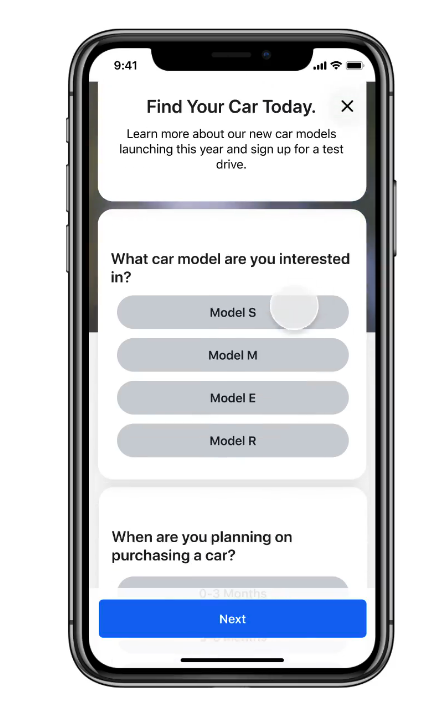 When creating the ad, you will need to set up the Facebook lead form that includes:
Name
Type: More Volume (a quick form for quick submission) or High Intent (that has a review step for people to verify the data they submit).
Intro (the image/video and the greeting);
Fields with the required information — you can choose Contact Fields, User Information, Demographic Questions, Work Information, and National ID Number (this one is available only for a limited number of countries)
Privacy policy webpage link and custom disclaimer
Completion section with a "Thank You" note, info on what happens next, and a CTA.
Do Facebook Lead ads work?
This experiment will help us understand the answer to this question. The experiment was carried out to determine what gets more leads on Facebook: Lead generation ads or Conversion ads. The advertisers compared the performance of two campaigns: a Lead campaign where people had to submit their details right on Facebook and a Conversion campaign with a registration form on a landing page.
Facebook Lead ads showed a 2.07% higher conversion rate than the Conversion campaign, probably due to the seamless experience people had. However, even though Lead ads have generated a higher volume of leads, conversion ads had nearly 6% more qualified leads.
How much do Facebook leads cost?
The above-mentioned experiment also shed light on the cost of the Lead ads compared to the conversion ads. The former turned out to be a lot more expensive: the cost per action of the Lead ads amounted to nearly $18. In contrast, getting a lead through a landing page costs slightly more than $13.
How do you get leads from Facebook ads?
Here are some of the tips to make your Lead Ads successful:
Know who to reach out to. Targeting is crucial — it is a universal truth for any type of campaign. That is why to get more qualified leads, it is a good idea is to target Lookalike Audiences (people that have things in common with your customers).
Grab attention with visuals. Again, this is not something new or relevant uniquely to Leads Ads — the task of your creatives is to catch people's eye. A GIF or a video are more likely to do the job than static images.
Keep the forms nice and neat. As a business owner or a marketer, you want to know everything about your prospects. Theoretically, lead forms in Facebook ads grant you such an opportunity by offering up to 21 questions. However, it begs the question, how many people will want to go through such a detailed questionnaire while checking their feed. The hard truth is that the more questions your form features, the lower performance your ad will have. Soб to get more leads from Facebook ads, you need to ask as few questions as possible.
To learn more about the creation, Facebook lead form examples, and best practices, check this article from Facebook for Business.