All topics
How to publish Instagram Feed posts: a guide for eCommerce store owners
Instagram is one of the most successful social media platforms with one billion users worldwide. On average, a person spends 53 minutes a day sharing and viewing content here.
Also, this platform is extremely popular among brands. According to Instagram itself, over 200 million businesses have accounts here. In turn, people don't mind such presence — 90% of users follow brands on Instagram.
All this data suggests that Instagram is a great platform for eCommerce brands to connect with their customers and reach out to wider audiences.
We've already talked about the new and shiny feature of Instagram — Reels. In this article, let's take a closer look at Instagram content creation flows for Feed posts. We'll discuss what Instagram Feed posts are, how to create, publish, and make them work for your brand.
What is an Instagram Feed post?
Instagram Feed is what you see right under Instagram Stories (those circles at the top). The Feed is the list of publications from the accounts you follow and advertisers. A publication here is called a Feed post.
In the Feed, you can like posts, comment on them, and save them to bookmarks. If you've been wondering how to share a post on an Instagram Story, you can do it from the Feed, too — just tap a Paper plane icon

and then tap Add post to story.
Another common topic is how to turn on post notifications on Instagram. Simply go to a profile you'd like to receive notifications from and tap a Bell icon. In the menu, you can select the content format you want to be notified about: Instagram Posts, Stories, Videos, Reels, or Live Videos.
The most-liked Instagram post
They say a picture's worth a thousand words, so let's look at one of the finest examples of this content format — the most-liked Instagram post: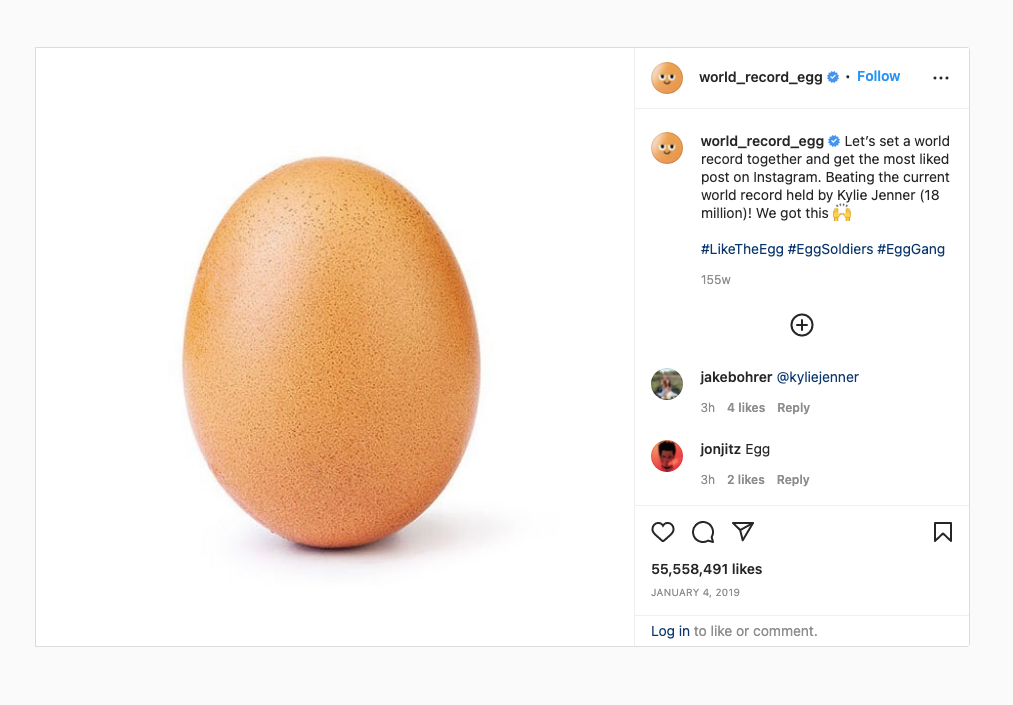 Yep, it's a photo of an egg posted on January 4, 2019. The author aimed to beat the record held by Kylie Jenner, whose post had 18 million likes. It took this egg only 10 days to break the record.
Not only is this photo the most popular post on Instagram, but it is also the most-liked online post on any media in history. As of January 2022, the egg has 55.5 million likes.
Adwisely isn't just a blog—we're a team of experts who can run efficient ads for your online store
Level up your ads
How to create an Instagram Feed post
Now that we have taken a closer look at the Instagram Feed and discovered the egg that has the most likes, let's see how you can publish a post on Instagram:
How to publish a photo/ or video
On your Instagram app, tap the Add icon :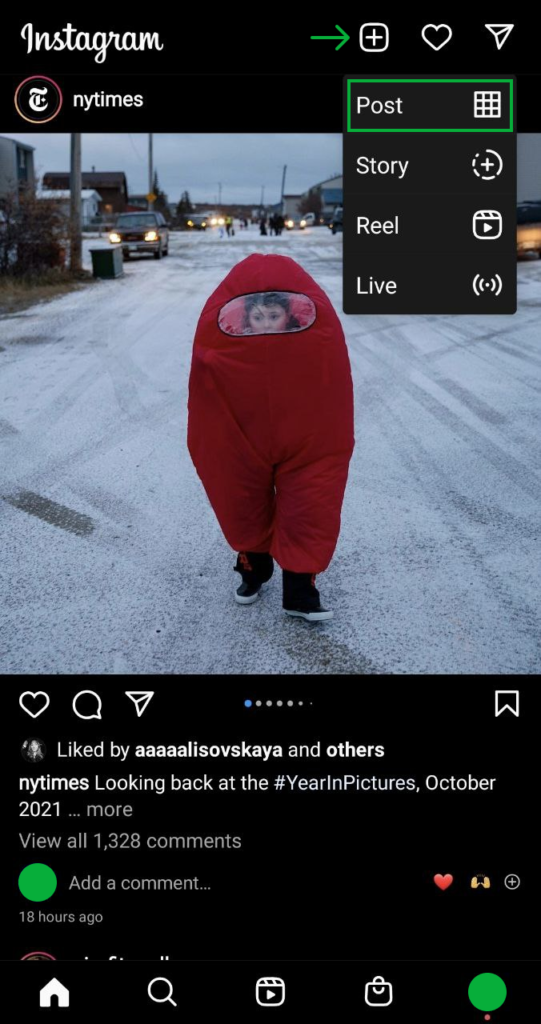 Select Post.
A gallery on your phone will open where you can select a photo or video to publish.
If you want to take a new photo or video, tap on the Camera icon . Tap the White circle to take a photo, and hold it for the video.
Once you've selected a photo or video to publish, tap the Blue arrow.
Apply a filter to your content. Also, you can edit the photo by adjusting Brightness, Contrast, Warmth, etc. A video can be trimmed at this stage. When you finish editing, tap the Blue arrow .
Lastly, add a caption with hashtags — simply type # and the hashtag you want to include. If your hashtag consists of two or more words, make sure not to break the phrase with spaces.
Also, here you can Tag people, Add location, and choose to cross-post your photo or video on Facebook, Twitter, and Tumblr.
Once you're ready, tap on the Blue tick to publish the post.
If you're looking for how you post a GIF to Instagram, follow the same steps. Your GIF will be posted as a video.
Alternatively, you can publish your photo or video using Facebook Creator Studio. Read this article by Facebook to learn more about Creator Studio and its features.
How to post multiple photos and videos
Start with the steps listed above to post multiple photos on Instagram. When the Gallery opens, long tap the file you want to be the first one in your carousel of images and videos. A small number 1 will appear on the file
Next, select photos or videos in the preferred order. You can upload up to 10 photos and videos at once.
H3: How to post a Reel in the Feed
On your Instagram app, tap the Add icon and then select Reels.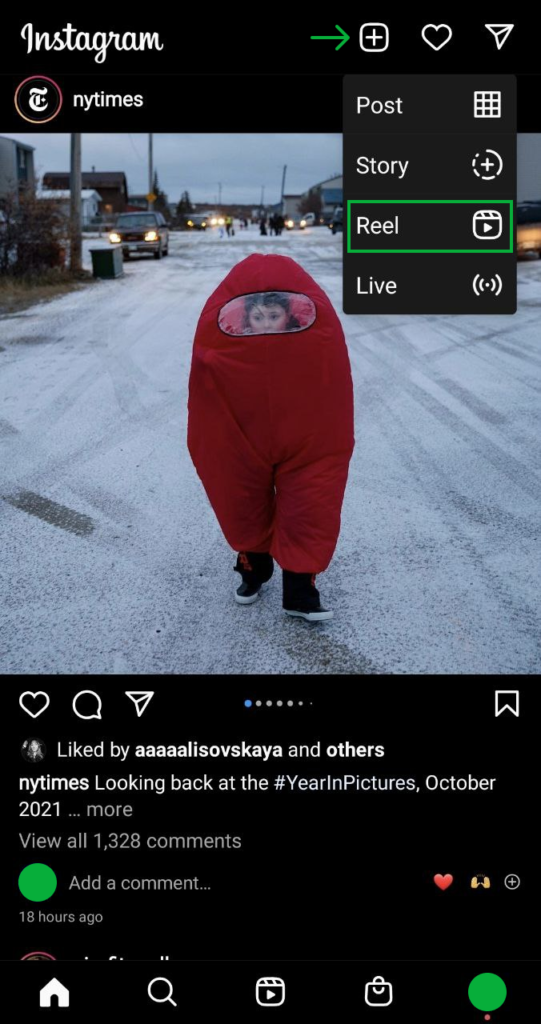 Alternatively, go directly to Reels by tapping the middle icon at the bottom of the screen and tap the Camera icon in the top right corner: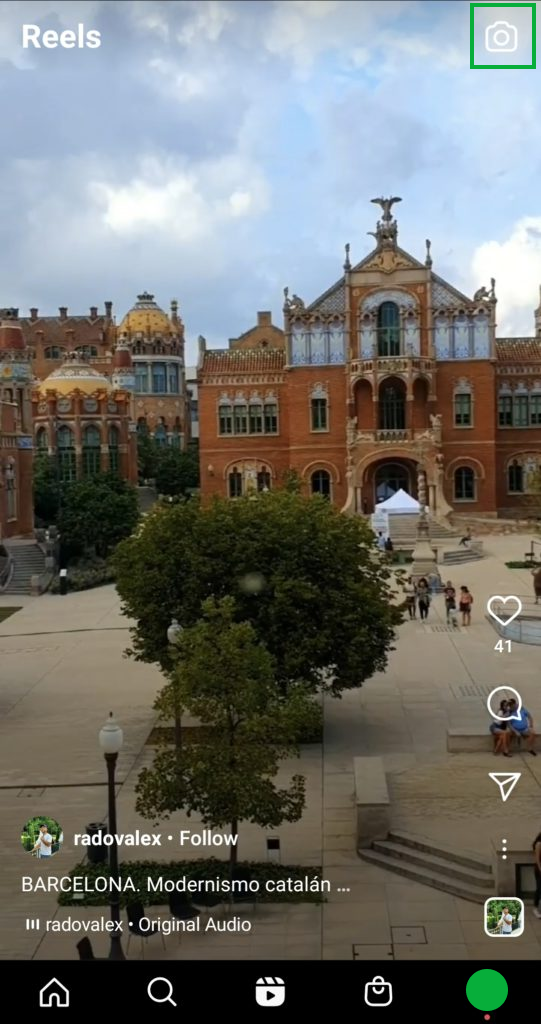 When the camera opens, start filming a Reel. Tap the white circle with the Reel icon to record, to stop — tap the Stop button. Alternatively, upload a video from your Gallery.
Tap Back arrow to edit the filmed video clips. When you finish filming, tap Preview.
Add effects, audio, and text to your Reel.
Tap Next.
Choose the cover for your Reel, tag people, add a location.
Tap Share to publish your Reel, and it will appear in your followers' Instagram Feed.
How to publish a shoppable post
Instagram Shopping enables you to sell your products right on the platform, making customer's journey shorter and more effortless.
To use this feature, you need to have an Instagram business profile and a product catalog on Facebook. Follow these instructions to get started.
If you have a store on Shopify or BigCommerce, you can effortlessly set up your Instagram Shopping:
Once you've set up Instagram Shopping, posting a shoppable post is pretty easy:
At the last step of posting a photo or video, tap Tag Products.
Tap the products you want to tag. You can search the products by typing their names into the search box.
Tap Done, then Share.
How to advertise an Instagram Feed post
You can create ads for Instagram Feed from your Ads Manager and Instagram mobile app.
Setting up Instagram ads in Ads Manager:
Go to Ads Manager and click on Create +.
Choose the objective of your campaign and click Continue.
In the New Campaign tab, you can edit the name of the campaign, add a Special ad category, set up an A/B test and choose Campaign budget optimization. Once you complete the setup of your campaign, click Next.
In the New Ad Set tab, set up your ad budget and the campaign duration, and select the audience you want to target.
If Conversions are your campaign objective, select where the conversion will be happening: website, app, Messenger, WhatsApp. You need to have Meta Pixel (previously known as Facebook Pixel) to track conversions.
At the bottom of the page, select Manual Placement. You will see the platforms available — tick Instagram together with other platforms you want your ad to be delivered on, then select Instagram Feed for Ad placement.
In the New Ad tab, choose Single Image or Video if you want to create only an ad with one photo/video or Carousel for two and more.
Next, add copy for your ads.
Set up tracking events that will take place after people see your ads (Website events, App events, Offline events).
Click Publish.
Setting up Instagram ads in the Instagram mobile app
You need an Instagram business account to set app ads in the app.
Go to your profile and tap the Promotions button at the top. Alternatively, you can create an Instagram ad by opening your post and tapping the Promote button.
Next, select a Goal. Here you can choose More Profile Visits, More Website Visits, and More Messages.
Choose/create the Target audience.
Set up the budget and duration.
Review your ad and tap Create Promotion.
With Adwisely, you can effortlessly set up automated ads on Instagram, as well as on Facebook, Google Search, YouTube, and Gmail. The app enables you to set up your first campaign in under 15 minutes and allows you to spend as little as 5 minutes a day on managing your ads on these platforms.
Conclusion
Instagram is one of the most popular social media platforms, and it has got rich opportunities — paid and free— for eCommerce brands to grow their business and increase the number of orders. Since Instagram Feed is one of the first things users see, it's crucial not to underestimate the importance of posts. Follow the steps listed above to increase your customer base by boosting brand awareness, sales, and customer loyalty.